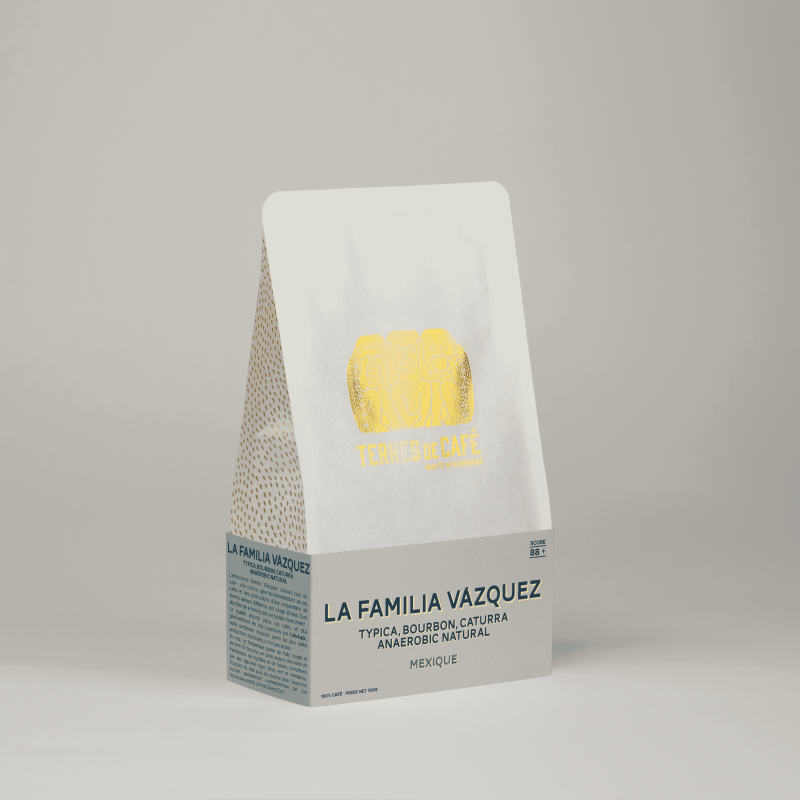 Café La Familia Vasquez - Typica, Bourbon, Caturra, Anaerobic Natural -150g
Tasting note
Nose : with notes of floral peach and milk chocolate.
In the mouth : The fresh nectarine dominates, enhanced by a red fruit jelly and rounded by a cascara syrup. 
The body is soft and smooth, and the finish sublimates the florality of this coffee with coffee with notes of cherry blossom.
This coffee is uniroast, which means it is both for for espresso methods and slow coffee methods.
The "espresso roasting" is recommended for the following equipment :

The "slow coffee roasting" is recommended for the following equipment :

What is a score?
Our product range is categorised by score: 80+, 85+, 88+ We have the "Specialty Coffee Association of America" to thank for the system of "scores", who defined a very strict ratings protocol to evaluate the quality of speciality coffee. This ratings system enables players within the sector, as well as coffee lovers, to share a common language. Within this tasting protocol, the main criteria for the evaluation of a coffee are noted: odour, aroma, after-taste, acidity, body, harmony, purity...
The final score classifies the coffee within a hierarchy unique to speciality coffee. The coffee must achieve a score of at least 80/100 to be considered a speciality coffee.
A detailed look at the scores attributed to speciality coffee:
Our blends, being mixtures of multiple coffees, are excluded from the rating system, although they are all comprised of speciality coffees.
*The SCAA classifies 90+ coffees as "Outstanding". We consider an 88+ coffee to reflect a quality that is already outstanding, already representing the excellence of the sector. In this regard, it is a Grand Cru.
---
Sourcing note
The Vasquez Sanctiz family masters the entire coffee value chain: cultivation, process and cup. 
It is not by chance that they consistently deliver a production worthy of the highest international standards.
They do us the honor and the friendship to sell us the whole of their modest and magnificent annual production. Not to be missed...
A speciality coffee
Speciality coffee are the best batches of coffee from farms or local cooperatives. They are fully traceable (botanical variety, region, plot) and respect demanding processing methods. This guarantees exceptional quality in the cup.