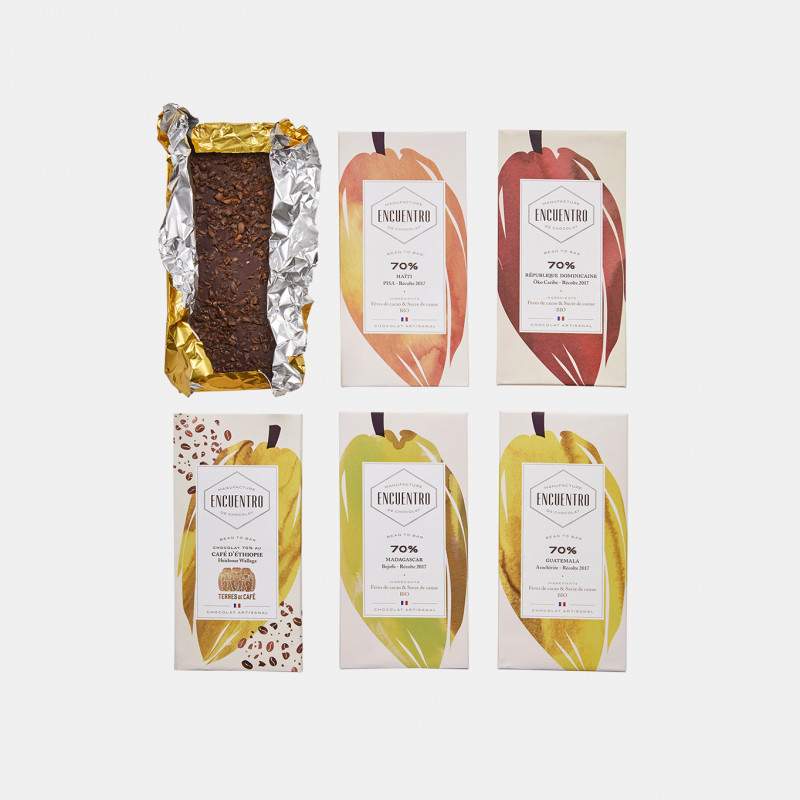 El Salvador 70% Organic Chocolate Bar
Description
ENCUENTRO
chocolate bar, handcrafted in Lille and certified Organic.
Tasting note: This chocolate will surprise you with its fresh and tangy citrus notes, counterbalanced by a sweet and unctuous finish on notes of blueberries.
Sourcing note: Salvadorans are big consumers of their own cocoa, which explains why few chocolate makers have ever had the chance to work with it!
Located in a lush forest, crossed by a source of crystal clear water, Hacienda Comalapa produces exceptional cocoa, in agroforestry, without any pesticides. A demanding job carried out with passion by the owner Luis and his team. It is thanks to our sourcing partner Belco, which leads sustainable and sustainable coffee and cocoa projects in El Salvador, that the first bags of this rare cocoa arrived in Le Havre in 2022.
Caractéristiques Techniques

Composition: Organic cocoa beans (70%) - Organic cane sugar. May contain traces of nuts and sesame.
Poids net :  75 g
---
ENCUENTRO
After having sourced the best cocoa beans and tested many and many recipes, Antoine and Candice launched Encuentro in 2017. It is in Lille that the two partners set up their factory and created their artisanal bars "Bean to Bar", chocolate essentially made from cocoa and organic cane sugar. For a pure and authentic result!