Terres de Café collaborates with a wide network of prestigious farms and cooperatives located in Latin America and Africa which prioritise respect for the environment and for human communities.
"The majority of the farmers that I meet are passionate agriculturalists, lovers of nature and of diversity.
They have understood for a long time that the search for high quality is incompatible with intensive yields and the use of chemical fertilisers and pesticides that impoverish the soils.
A coffee plant only provides the best that it can if it is in harmony with nature".
Christophe Servell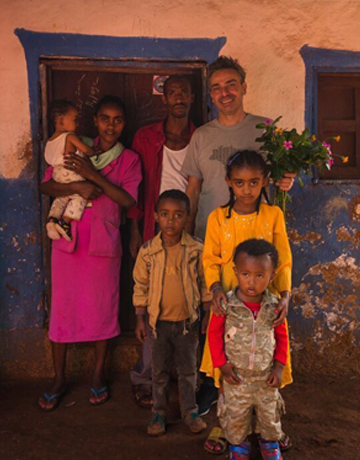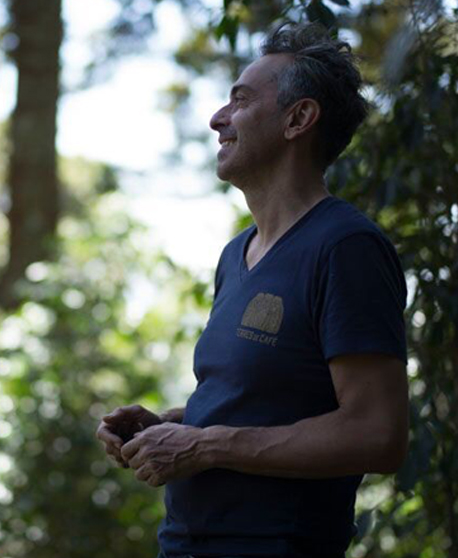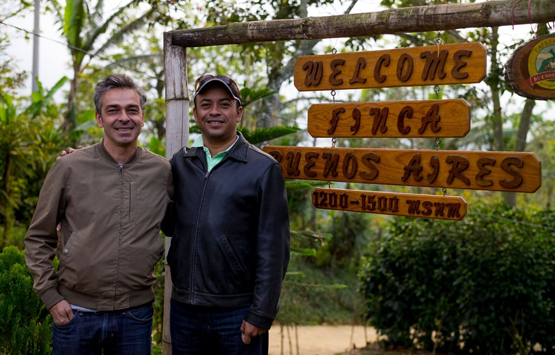 Fabian Bustos is still surprising us El Sauce, a rose-type Bourbon Rose Floral, fruity with a malic edge, a very clean and transparent cup.
Our pick: El sauce Bourbon Rose fully washed 88+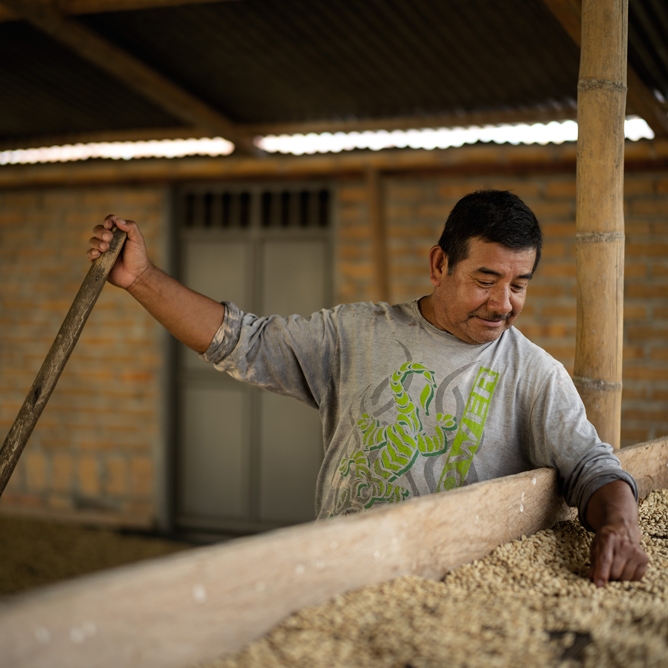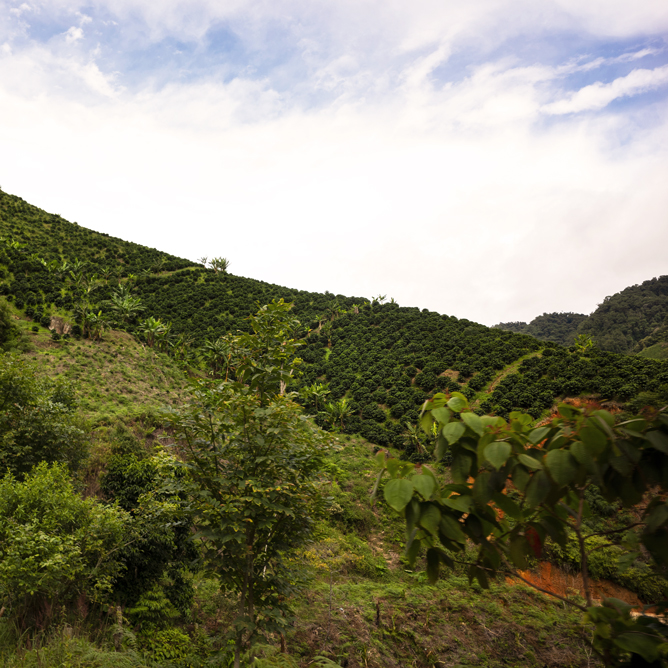 Granja Las Esperanza, Colombie
A small family business, Granja La Esperanza owns and operates three farms in Columbia: Cerro Azul, Las Margaritas and La Cristalina. A pioneer in the production of quality organic coffees, the company is at the cutting edge of research in acclimatising noble, rare or forgotten species such as the Bourbon Pointu (Laurina), the Geisha, the Typica, the Sudan Rume etc. to the Columbian terroir.
It experiments with all of the fermentation and drying methods. La Granja cultivates excellence, from planting right to the cup: fragmentation, ultra-selective harvesting, fermentation and drying in nano-batches (Laurina is dried in 330g trays), incredibly thorough sorting, selective cupping of each new batch. The result:international awards won year on year for some extraordinary coffees.
Our pick : Bourbon Pointu fully washed, Geisha Natural Cerro Azul
A pretty little farm spanning 15 hectares, at the heart of Pitalito, an incredibly beautiful terroir in the region of Huila. The Jaime plantation was severely affected "La Roya" or "Leaf Rust" (a disease of the coffee plant) in 2013.
Since then, it replanted with Castillo and, of even more interest to us, with Geisha, on the most beautiful parcel - El Vergel. Each year it plants a little more Geisha and increases its volumes, which makes it one of the experts on the subject in Columbia.
Our pick : Geisha fully washed, 88+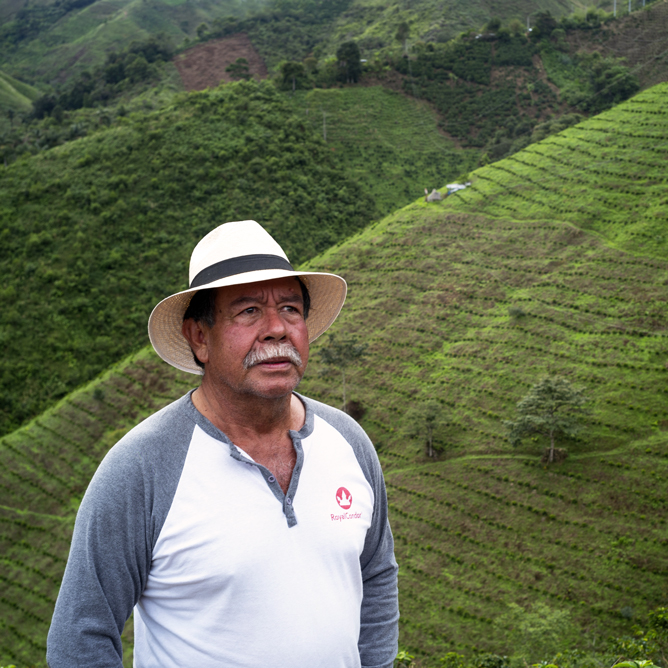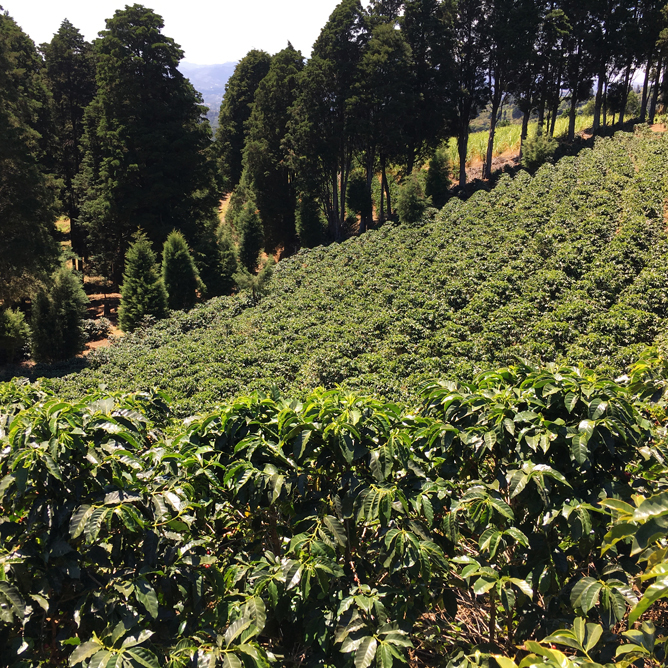 A farm dating back more than a century, Volcan Azul is now managed by Alejo Castro, a sixth generation farmer. Alejo, who is around thirty years old, adopts a modern approach to coffee and has developed its production considerably: fragmented planting, adaptation of prestigious botanical varieties and the precision of a goldsmith applied to the multiple processes practised on the farm.
All performed within the context of sustainable agriculture. Concerned with the preservation of the tropical rainforests, the Castro family owns wooded parcels at high altitude, and purchases new ones year after year with a view to leaving them just as they are, and thus protecting them against deforestation.
Our pick : Volcan Azul Caturra 85+, Geisha Red Honey 88+, 85+ SL28 Red Honey, Volcancito 80+
Producer: Jacqueline Ovalo
Region: Ouehuetenango Altitude: 2000m
Our pick: "Jacqueline 90" 88+ Typica / Caturra Fully Washed
Tasting: on the nose, jasmine, passion fruit, infinite flavour. On the palate, a juicy body, still with notes of passion fruit, lemon and bergamot. This coffee is solar, brilliant, exceptional.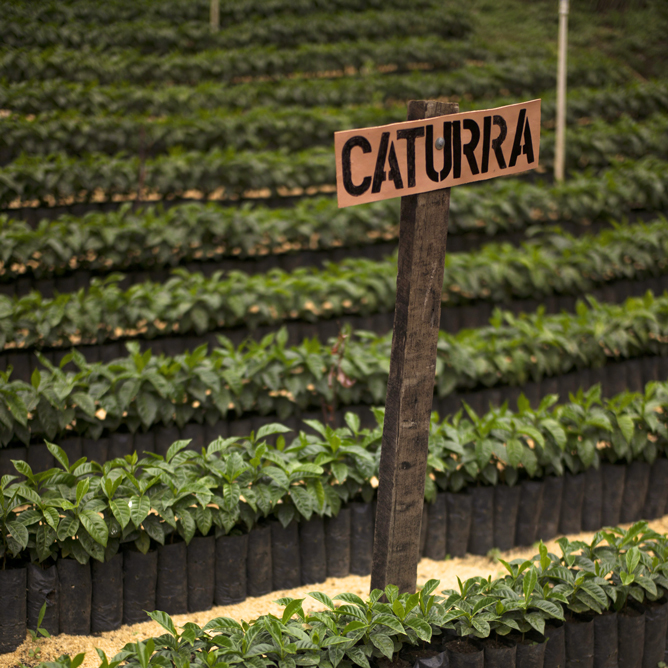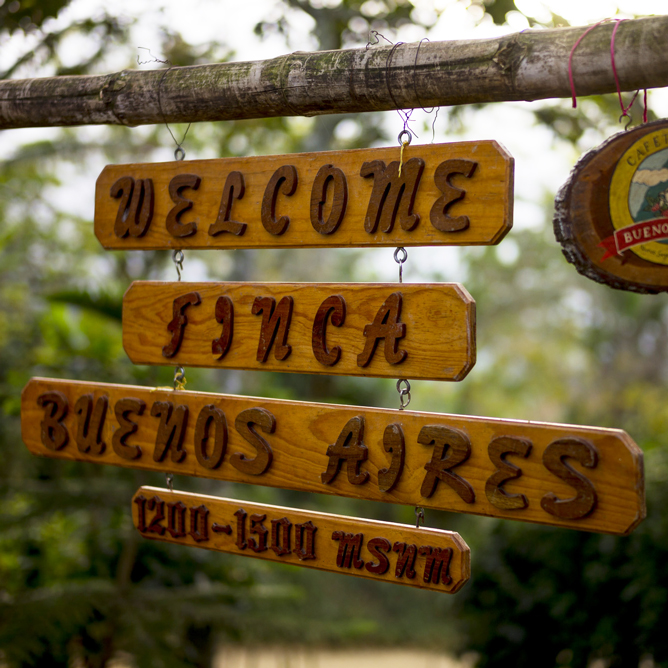 Finca Buenos Aires, Nicaragua
Luis Emilio Valladarez began growing coffee plants in the region of Dipolto in 1955 with the 6-hectare Buenos Aires farm. Now managed by olmann Valladarez, his son, Buenos Aires stretches across 100 hectares. A pioneer, it was at age 14 that Olmann organised the fragmentation of his crops by variety, and the multi-processing of his coffees with a view to obtaining batches.
He practices growing under shade and is one of the few to do so in Nicaragua. His dedication to this work bore its fruit in 2015 with a victory in the CUP OF EXCELLENCE.
Our pick : Maracaturra Natural 88+
Finca Santa Teresa, Panama
Located on the slopes of Volcan Baru, the tallest mountain in Panama, Finca Santa Teresa is divided into parcels planted exclusively with Geisha - with the exception of one planted with Caturra, at the initiative of Toby Smith - the creator of Toby's Estate, who purchased the farm a few years back.
The farm benefits from an exceptional terror thanks to its elevated position, rich volcanic soils and a climate that is influences by the Pacific and the Atlantic, as well as a series of hills and valleys, which encourage the blooming of the coffee plants. A perfect knowledge of this variety, of the terroir and of the processes, which have been utterly mastered, make it one of the best coffee-growing farms in Central America, with coffees with notes of honeysuckle, lychee, apple and strawberry...
Our pick: Geisha Estribi Natural, Geisha Zorro Honey Process, Caturra/Catuai Honey Process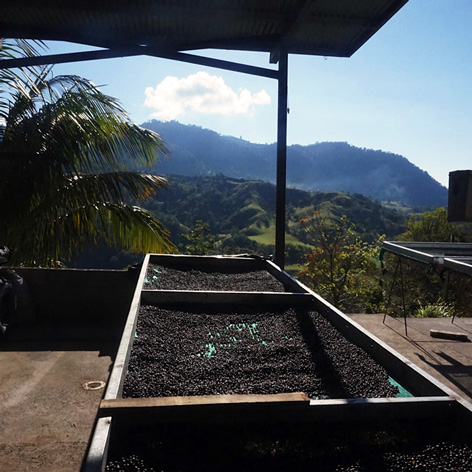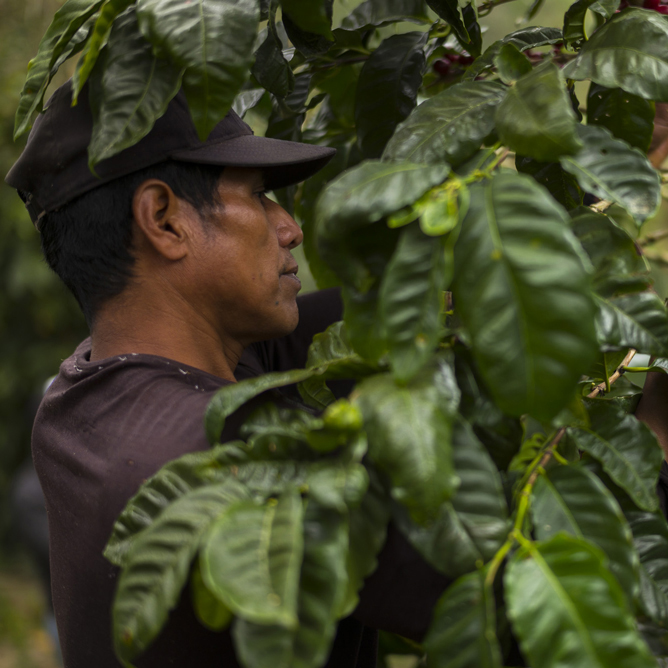 The Finca Himalaya is a "post card" plantation, nestled at the top of the slopes of a volcano. Its owner Mauricio Salaverria, a 5th generation planter, is both a virtuoso and a perfectionist: fully fragmented planting under shade, drying on mats, preparation using and great mastery of the 4 preparatory processing methods, namely Nature / Pulped / Washed / Anerobic.
Our pick: Bourbon Rouge natural, Bourbon Rouge honey process, Maragogype Natural
TORBAN ANFILLOO COOPERATIVE, ETHIOPIA
This terroir cooperative groups together 35 small-scale producers, and carries out particularly meticulous work, within clean and very well maintained infrastructures, with very well-trained staff who are involved in all stages of the process. The producers own parcels in the Anfilloo Forest, which is today part of the coffee plant forest of the west and south-west of Ethiopia, the birthplace of Arabica and a location in which there still exist numerous wild forests.
The Terres de Café story begins with these forests, as these were the first speciality coffees that we purchased. Thanks to the relationships that we maintain with the producers, their dedication and their passion, the training provided with a view to performing more selective harvesting and implementing more accurate processes, harvest after harvest we offer Wallaga coffees that are continually improving and in quantities sufficient to avoid the splitting of batches.
Our pick: Dulli Anfilloo Bio, 85+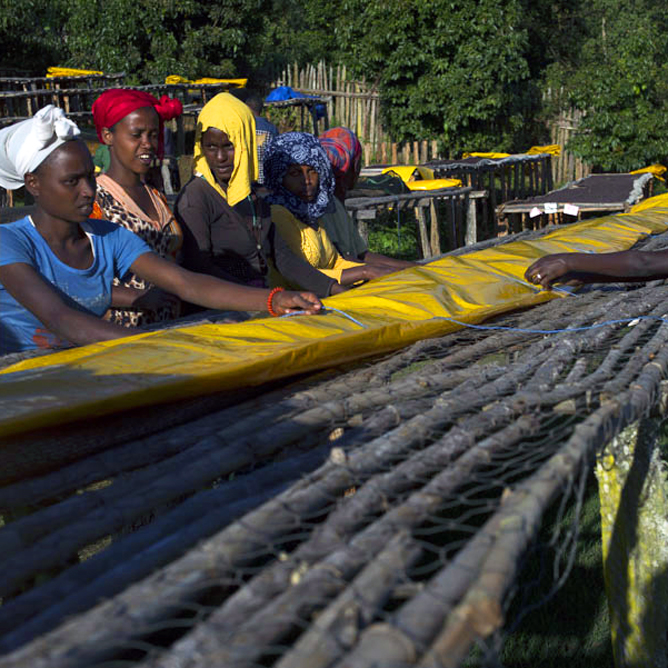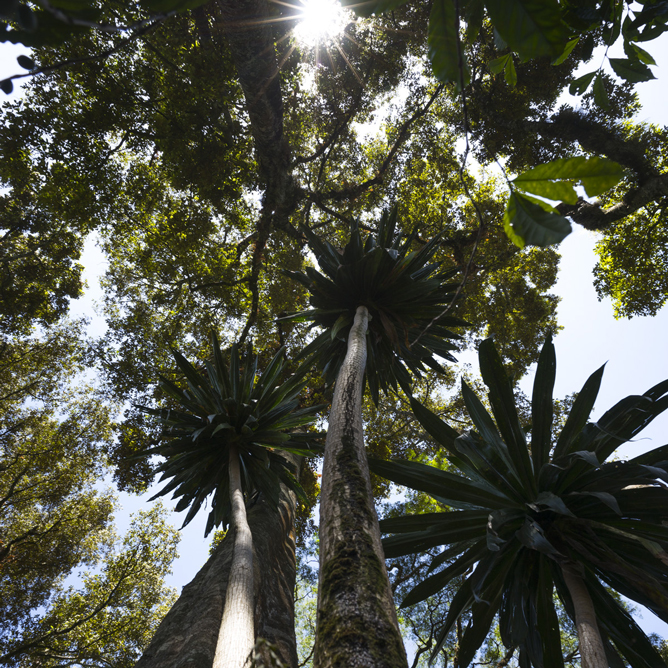 The Dambi Uddo farm is an exceptional site, a coffee pioneer that belongs to the Guji Highland Coffee Plantation. The farm takes its name from a tall tree that is abundant in the wild forest located close to the town of Shakisso.
In the early 2000s part of the forest was transformed into plantations (150 hectares). These have maintained an agro-forestry system where the production of coffee operates alongside honey and wood production. To the variety of soils and the scents of trees, Dambi Uddo adds a stringent environmental ethic: work is carried out by hand, without any chemical products.
The Guji Highland Forest is without doubt the example to be followed for the future of our sector.
Our pick : Guji Highland Heirloom Natural
MOKKA COFFEE PLANTATION, ETHIOPIA
Heleanna Georgalis is a stand-out figure when it comes to Ethiopian coffee, and is highly respected in Ethiopia and in the world of speciality coffee. Of Greek origin, her father was a pioneer in the world of specialist coffee and made a major contribution to establishing the reputation of Ethiopian coffees, in particular those from the Yirgacheffe region, having been the first to offer washed coffees to an international clientèle, in particular Japanese. "The Yirgacheffe" is now sold all around the world and enjoys a great reputation on account of its unique and fine profile with hints of apricot.
Since Heleanna took over the reigns of MOKKA PLANTATION COFFEE, an export company, she has continued to innovate and is engaged in a continual quest for perfection.
Our pick: Yirgacheffe Mountain Dried, 88+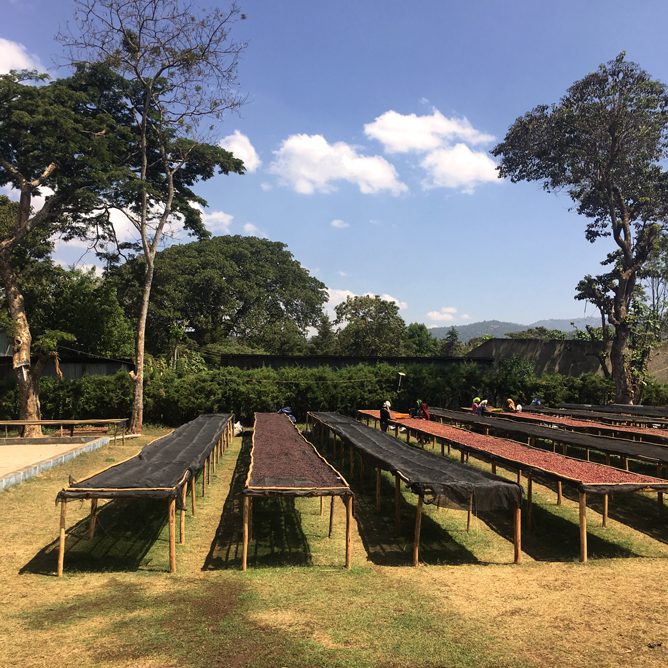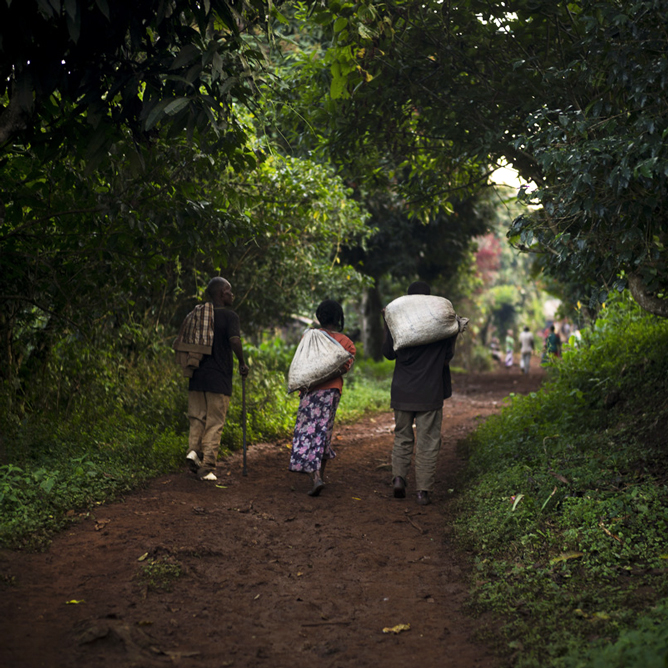 Kirinyaga is a cooperative of small producers, located in the centre of the country at an altitude of 1700 metres. Its best batches of coffee are "processed" using the Kenyan method - fermentation in tanks and then a second washing, which gives the coffees a unique style, characterised by purity and fruitiness.
Our pick: A great Kenyan coffee with sundried tomatoes on the nose, a juicy body, an exquisite tightness, green apple and continuing hints of cooked tomato.