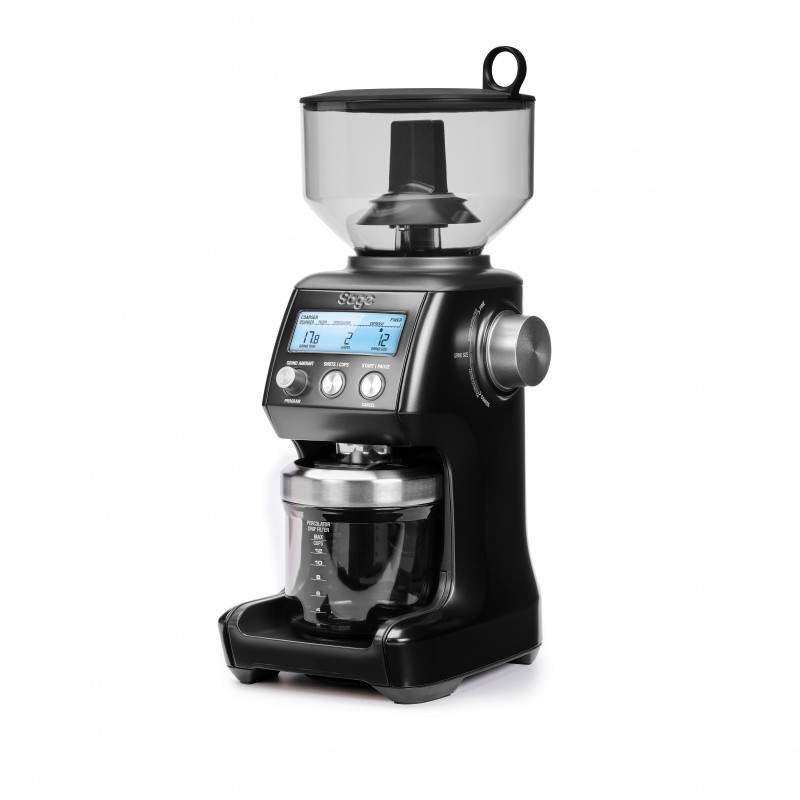 Black Smart Grinder Pro - Sage
Description
Perfect coffee always needs a precise amount of freshly ground beans. But adjusting the degree of grinding requires different grinding times in order to achieve a constant dose.
The conical grinder that automatically brews the same amount of coffee every time! The efficient blade design allows the grinder to spin slower than flat grinders, reducing heat transfer and increasing particle area for smoother, more balanced flavors. Programmable dosing feature allows users to adjust and program grind time.
The Sage Smart Grinder uses Dosing IQ technology to automatically adjust the dose whenever the grind changes. Choose between "Cups" for a coffee maker-like coffee to brew, regardless of the grinding setting. You can even change the taste slightly.
The smart grinder features an LCD display, 60 grind settings, a removable 450g hopper and two grind holders for direct dosing into commercial 50-54mm or 58mm espresso filters as well as an airtight storage bin, suitable for filter coffee or French press coffee.
Technical specifications
Color : Noir
Materials: Brushed stainless steel
Product dimensions (H x l x L mm) : 487 x 290 x 410 mm
Unit weight : 2.78 kg
Power: 165 Watts
Voltage : 240 Volts
Dosing iQ : automatically adjusts the dose when you change the grind
Backlit LCD display
Autonomous operation
High precision conical grinder : 60 grinding settings
Programmable injection / cup volume
Dose pause function
Large capacity grain hopper : 450g with locking system to facilitate grain removal
Filter holder brackets : 50 / 54mm and 58mm
Airtight grind drip tray included
Filter holder not included
Accessories included : Small filter holder holder (50-54mm), large filter holder holder (58mm), grinding container with lid and airtight cap, cleaning brush for conical grinders
Guarantee : 2 years
---
Sage
Award-winning kitchen appliances designed to inspire our customers to make delicious food and drinks at home with ease. From espresso makers to food processors, the innovation in each appliance delights your senses: the smells, textures and sounds of cooking awaken memories and create new ones. Share them with the people who matter most in your life. That's why we do what we do. To listen. To persevere. Innovate. Test. Perfect. Create.