Conversation with Alejo Castro
Published : 11/25/2020 15:45:38
Categories : News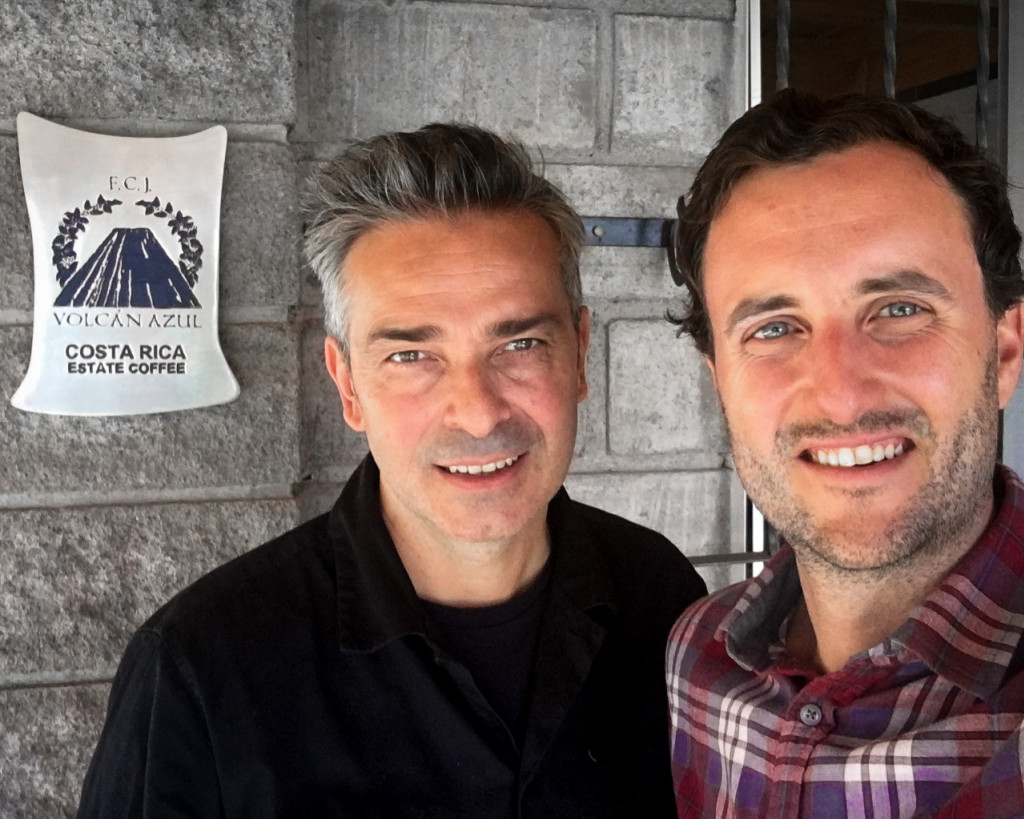 For four years, Christophe Servell has collaborated with Alejo Castro by regularly buying his coffees. Both have common objectives: those of making the greatest number of exceptional coffees known, of being among the major players in sustainability and of participating in the preservation of biodiversity. On the occasion of the release of the Volcan Azul Prestige box set, Christophe interviewed Alejo on these issues.
What is the total surface of Volcan Azul ?
300 hectares
How many hectares are planted ?
60 hectares
How many hectares are dedicated to conservation ?
200 hectares
What is the difference between Volcan Azul and other quality farms in Costa Rica?
Every farm and producer hav its own story. In our case, we are really proud of the over 180 years our family has been producing and exporting coffee. This tradition comes from both sides of my family. We also found not long ago out that a great-grandfather born near Bordeaux was already trading coffee in 1801. So, now we know that we have over 200 years related with coffee. Our biggest motivation is to honour our ancestors by producing the best coffee in the world, because they are a great example of hard work and resilience. Of course we have great natural conditions to produce great quality and our focus is based on producing the best coffee by having the best varieties and processes.
Which varieties has been awarded, for which competition, and when did they get their award ?
• Caturra: Has been awarded with cup of excellence international award and has been used in World Barista Competition and also national Barista competitions.
• Geisha: Has been awarded cup of excellence international award several times winning a presidential award by scoring 90+. It has been used in World Barista Competition and also national Barista competitions. Won Danish Brewers cup
• Typica Volcan Azul: Has been awarded with cup of excellence international award and has been used in barista competitions
• Typica Lima: Has been awarded with cup of excellence international award and has been used in barista competitions
• SL 28: Won 4th place in Cup of Excellence. Has been used in the World Brewers Cup and also in the World Barista competition.
• San Isidro: Won national award in cup of excellence.
What importance do you give to the process*? and to exploring processes?
I always say that the quality comes from the field, we cannot make a good coffee just with process, but we know that with the process we can stand out some of the flavors of the coffee depending on the fermentation we give to our process. For us it is fundamental to have clean and homogenous quality in our process. At the same time I really enjoy experimenting with new processes and then in our cupping lab find out if the process is highlighting sometimes sharp acidity or silky body or giving us winey, fruity flavours. It's important to tell that we don't add strange ingredients to our fermentation methods, we believe in the natural flavours we already have coming from the field and also the natural yeast we already have.
Why do you think it is necessary to have a wet* and dry mill** at the farm?
In my case I like to have control in all stages of our coffee, from planting the trees, managing the plantation, harvesting the cherries, fermenting and drying the beans and then preparing the coffee for export until we fill the containers. I think is the best way for us to preserve quality and also to see where we can improve every year,
What are your latest investments ?
This year we are doubling our anaerobic and also drying capacity. This is because I want to be able to give the time the lots need for fermentation and also we need to be able to slowly dry the coffee to preserve quality. We are also doubling our hulling and sorting capacity for naturals in the dry mill so we can prepare the lots faster and have a better quality control. Finally this year we are changing the color sorters for a newer technology so we'll be able to improve the presentation of our green beans.
What is your latest contribution to improve the sustainability of the farm?
The main one is always our conservation areas. Due to fungus diseases traditionally we didn't have too many trees inside our plantations. Last year we started planting hundreds of trees alongside our plantations and also next year we will start an agro forestry project hoping to recreate it in all our farms. We have been studying the advantages of having a big biodiversity of insects, birds, animals and plants and we are taking actions to protect this biodiversity.
What is already in place to go sustainable?
Sustainable for us is to have a balance between production and conservation. Our main farm is over 2/3 destined for conservation, in total we conserve and protect over 1500 hectares. For sustainability we also need to protect the soil, increasing the use of organic fertilizers and lower the use of agrochemicals. We also have to protect our biodiversity, first by conserving the forest, then by protecting it inside the plantations. We don´t use insecticides and now we are planting more trees that will attract this biodiversity. We also protect our water sources by protecting the forest alongside them and also by using technology that requires less water and also by treating the water that's used in the mill.
A few words on your conservation farms in Osa Peninsula?
We own and protect over 1,500 hectares of rain forest since the early 1980's when my father started buying more extensive conservation areas. Since my childhood conservation was one of the main values in our family. The Osa Peninsula is very important to protect because it holds over 2.5% of all the world's biodiversity in a very small area. It's very refreshing to go to Osa Peninsula and stay alongside the rainforest and hear all the wildlife. We, as a family believed that through conservation, is the way we can contribute to the whole world.
* Process: processes of fermentation and drying of coffee.
** Wet Mill: Installations dedicated to the fermentation and drying processes of coffee.
*** Dry Mill: Installations dedicated to the various sorting operations and the bagging of coffees.
You might also like