coming soon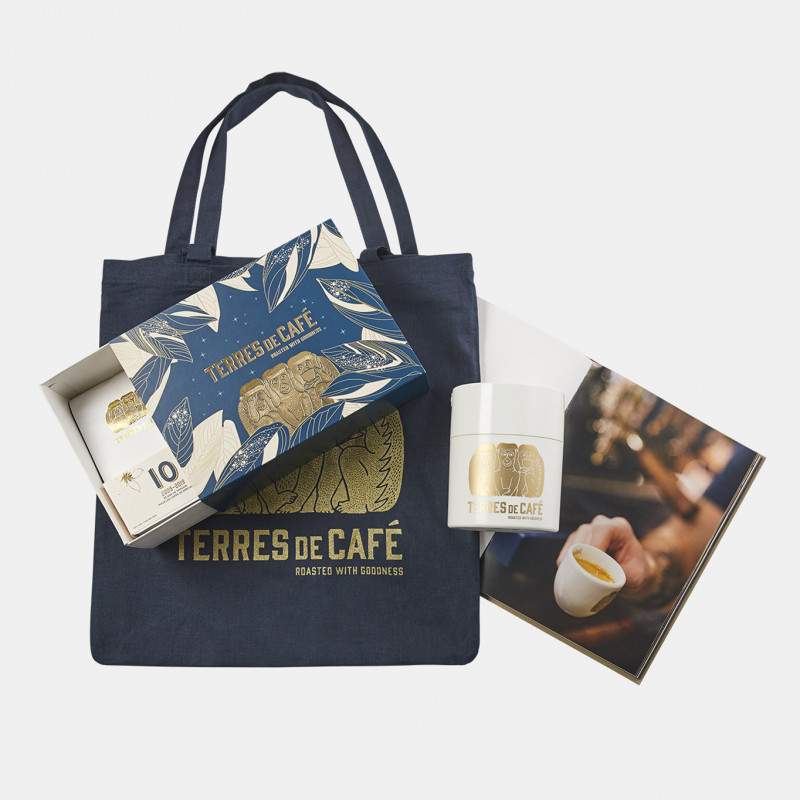 Specialty coffee initiation kit Terres de café
Description
This gift box is fitted with a totebag Terres de café, an airtight box of 250g Terres de café, the "Culture café" book of Christophe Servell (written in French) and 2 coffees in an exclusive exotic gift box.
Bourbon South Huila : Awarded Silver Medal in the Epicures de l'épicerie fine 2019 in the "Cafés" category. The 2019 "vintage" Bourbon South Huila offers us a complex, pure and juicy cup with notes of flowers, tea and sweet citrus. A silky body backed up by a wonderful mineral tension. Roasted in France by Terres de Café.
"10" Blend : In the mouth, a very sweet beginning in a velvety body, always with honey and spices and an explosion of fruit, raspberry, pear, apricot. A long, gourmet and praline finish. Roasted in France by Terres de Café
Coffees roasted by Terres de café in France.
Technical Characteristics
Dimensions: L 23,5 x l 17,5 x H 8 cm for the box
Composition: a Terres de café totebag, an airthight box Terres de café, the book "Culture café" by Christophe Servell and 2 awarded coffees in an exclusive box.
---
Terres de Café
Founded in 2009 by Christophe Servell, Terres de Café offers the largest range of specialty coffees in Europe with more than 30 exclusive coffees, in grain or ground, pure origin or blends.