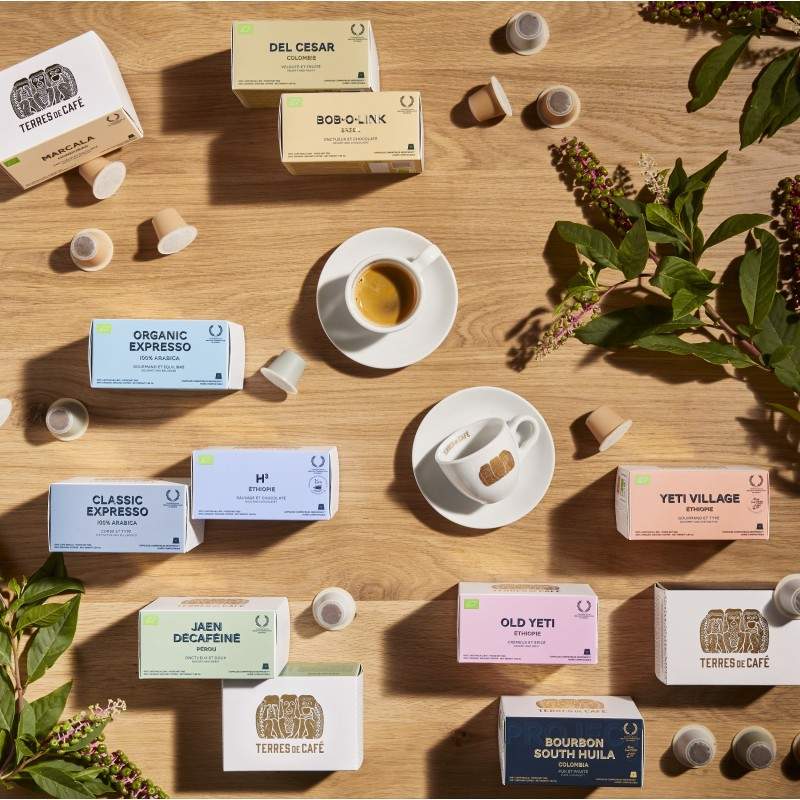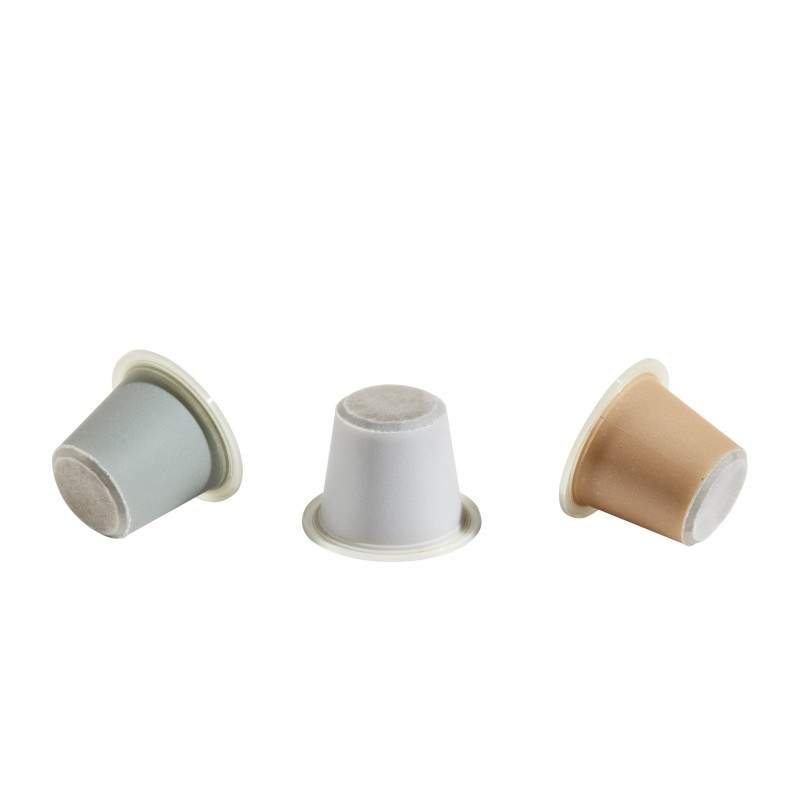 TDC Capsules Collection - 10 Boxes
Description
This lot consists of 10 boxes of 10 coffee capsules 
Classic Expresso blend : Local coffees assembled for a powerful and smooth espresso, with notes of chocolate and hazelnut. The classic of the house.
Organic Ethiopie H3 : Voted Best Expresso Blend of France in 2015, Ethiopia H3 organic is a blend of three native varieties of Ethiopian Wallaga. Two natural coffees for the body and the typicality, one washed coffee for the fruitiness and finesse.
Organic Bob-O-link : A thick body, notes of milk chocolate, almonds and hazelnuts. A gourmet finish.
Organic Colombie Del Cesar : A sweet cup with notes of caramel, hazelnut and chocolate.
Colombie South Huila : A pure, fruity and intense cup.
Organic Ethiopie Old Yeti : A creamy cup with notes of peach, apricot, tonka bean and candied lemon.
Organic Ethiopie Yeti Village : A gourmet cup with notes of praline, chocolate and sweet spices.
Organic Honduras Marcala : A very balanced cup with a sweet fruitiness and hints of milk chocolate.
Organic expresso blend : A velvety, balanced and spicy cup, with notes of cocoa, tonka and sweet citrus. A great espresso all the time.
Organic Jaen décaféiné : A balanced and gourmet cup with notes of chocolate and almond. A long and greedy finish.
In case of shortage on a range, we guarantee the delivery in replacement of a superior or equal range.
Characteristics

Composition: Bob-O-link bio, Ethiopie H3 bio, Classic Expresso, Organic expresso, South Huila, Old Yeti bio, Old Yeti village bio, Honduras Marcala bio, Del Cesar et Jaen décaféiné.
Compatible Nespresso, capsules home compostable.
---
CERTIFIED HOME COMPOSTABLE ®NESPRESSO COMPATIBLE CAPSULES *
Biobased, our capsules are made from 100% a material derived from cellulose and vegetable oils.
Impervious to oxygen, they perfectly preserve the aromas of coffee, and are the first to be "OK Home Compost" certified.
The "Home Compost" certification guarantees the total degradation of the capsule after 20 weeks, at room temperature, in your domestic compost.
These home compostable capsules, packaged in a protective atmosphere, are produced in France and contain 100% organic and freshly roasted specialty coffee.
Roasted with goodness in France.
* Brand belonging to a third party, unrelated to Terres de Café.