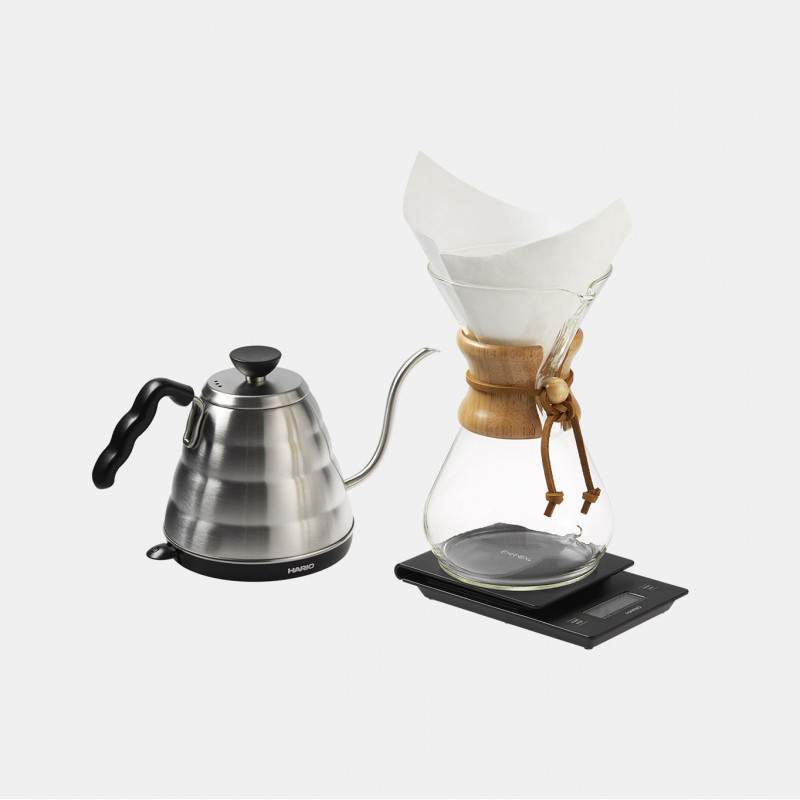 Description
Chemex kit composed of :
A Chemex coffee maker made of non-porous borosilicate glass which do not absorb odors or chemical residues. Its pour-over allows coffee to be covered and refrigerated for reheating without losing flavor.
Filters, 100 Chemex prefolded paper filters. Thick specialty fiber filter, designed to make a perfect extraction.
Drip Scale that simulaneously measures the amount of coffee beans, hot water, and extraction time which are the main components for making delicious hand drip coffee.
Hario Buono Kettle with a long narrow gooseneck spout, made in stainless steel. The shape of this kettle will allow you to realise perfect and precise infusions, like a professional.
Convenient size of 800 ml. Ideal to use with your V60 dripper for an aromatic infusion, but also for your teas or other infusions!
Characteristics
Composition : glass, wood, paper

Cleaning : Dishwasher safe
2 sizes available : Siza 1 (Chemex 3 cups) Size 2 (Chemex 6 cups)
---
Chemex
Since 1941, CHEMEX manufactures the best filter coffee thanks to a perfect blend of art and science. The unique properties of our glass jug ensure the natural flavor of your coffee, and nothing else. The coffee maker, used with special Chemex filters, you will have a perfect coffee cup without bitterness or coffee ground, appreciated by coffee lovers worldwide. Today, it is a part of the permanent collection of MOMA.