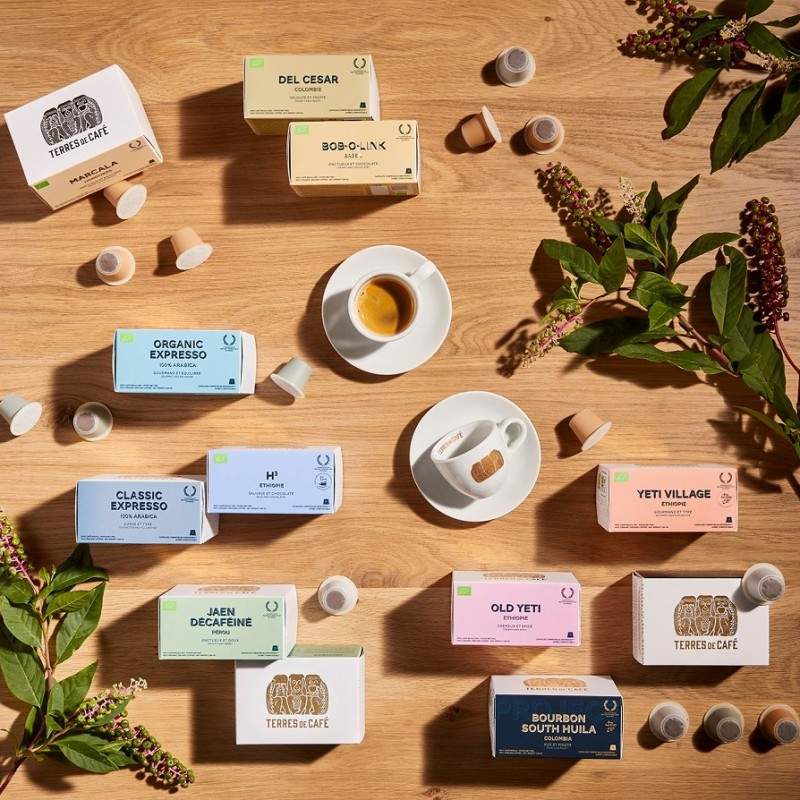 Subscription - Coffee Capsules for 3 or 6 Months
HOME COMPOSTABLE CERTIFIED CAPSULES COMPATIBLE ®NESPRESSO*
Biosourced, our capsules are made of 100% cellulose and vegetable oil.
Oxygen-tight, they perfectly preserve the aromas of coffee, and are the first to be certified "OK Home Compost".
The "Home Compost" certification guarantees the total degradation of the capsule after 20 weeks, at room temperature, in your domestic compost.
These home compostable capsules, packaged in a protective atmosphere, are produced in France and contain 100% organic, freshly roasted specialty coffee.
Roasted in France with goodness.
*Brand owned by a third party, not related to Terres de Café.
THE MONTHLY CAPSULE SUBSCRIPTION - 3 OR 6 MONTHS, IS:
Receive monthly boxes of capsules of your choice without any delivery costs*.

Customise your capsule subscription:
Step 1:

Choose the formula that suits you:

Classic | Boxes of Organic Expresso, Classic Expresso, and Bob-O-Link.

Medium | Boxes of H3, Del Cesar, and Marcala.

Premium | Boxes of Yeti Village, Old Yeti, and Bourbon South Huila.

Mixte | Boxes of each range of capsules**.
Step 2:

Decide for how long you would like your subscription:
Step 3:

Select the number of boxes you would like to receive each month:
6 / 9 / 12 / 15 / 18 / 21 / 24 /27 / 30 boxes of 10 capsules.***
*Delivery is offered in France and in Zone 1 (Germany, Belgium, Luxembourg, Netherlands).
**The Jaen Decaffeinated capsule range is not included in the capsule subscription.
***For the Mixte formula, you can choose among 9, 18 and 27 boxes monthly.
Example:
I select the Premium formula. I then decide to sign up for 3 months. I choose to receive 12 boxes every month.
In this case, I will receive 4 boxes of Old Yeti, 4 boxes of Yeti Village, and 4 boxes of Bourbon South Huila at the beginning of each month.
For subscriptions made between the 1st and the 15th of the month: the first subscription box is sent within 72 hours.
For subscriptions made between the 15th and 30th of the month: the first subscription box is sent at the beginning of the following month.
In case of a range out of stock, we guarantee delivery of a range superior or equal in place.
---
3 GOOD REASONS TO SUBSCRIBE
Select your favourite capsules
Choose from our 9 capsule ranges.
Save time
Order once, receive coffee right at your doorstep every month.
Promote an ecological and sustainable subsidiary
Our capsules are home-compostable and 100% organic.