SOURCING DIARY : ETHIOPIA, SIDAMA AND WOREDA : FEBRUARY 2023
Published : 02/10/2023 15:52:54
Categories : News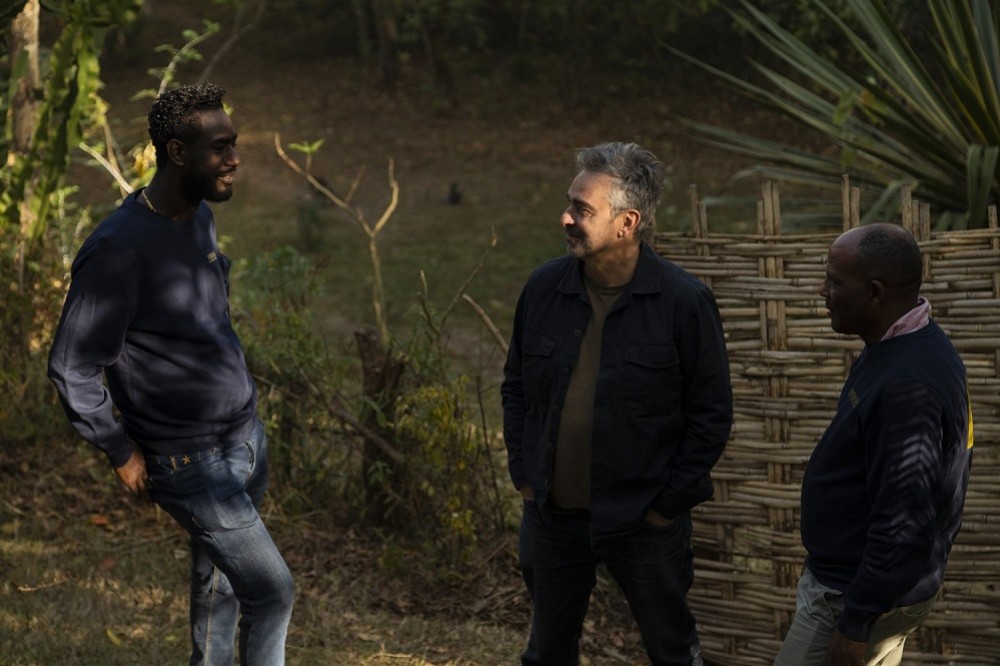 Ethiopia : The beginning of our story
Eleven years ago, I discovered Ethiopia and more particularly the Wallaga, thanks to Jacques Chambrillon. I met Shambe Kana, the Wallaga man and Oromo rebel, then the sweetness and beauty of the coffee forests.
11 years later, Terres de Café imports several containers of forest coffees from various regions of Ethiopia. It was a ritual to go there every year to build friendships and business relationships with our different partners. This country and its wonderful coffees are in the DNA of Terres de Café.

But Ethiopia has been confiscated from us for the last three years by a civil or rather ethnic war, about which we say very little in Europe, but which has already left more than 600,000 dead in the north, half of them civilians. Coffee was reaching us from certain regions, but relations had become impossible. 

It is therefore with particular joy that I am preparing this trip, which I will share with Michael Loos, our roaster, Romain Alimoradian, the owner of the Terres de Café shop on rue Le Bourdonnais, my long-time accomplice and photographer Fabrice Leseigneur and Jacques Chambrillon, who will also be travelling. Pierre de Chanterac will also be joining us, he has just won the national Ibrik (Turkish coffee) SCA competition, with a Honey Process coffee from Ethiopia prepared by the Dukale brothers. It's a good thing they are the ones we are going to meet!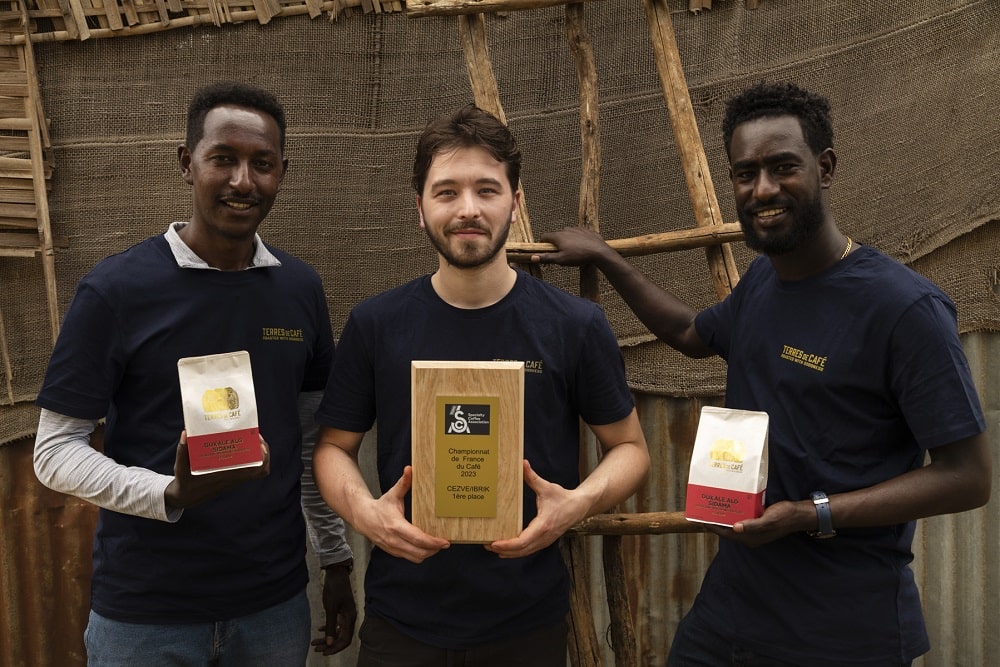 Pierre de Chantérac and Dukale brothers | Photo credit : Fabrice Leseigneur 
The Dukale brothers - Sidama and Woreda
Landing in Addis Ababa, air transfer to Hawassa, and here we are in the Sidama region. Shambe is waiting for us, he has not changed, a moving reunion. He is accompanied by Assafa Dukale. We get into the 4X4 and it's off for 8 days of discovery. 

The first objective of this trip is to diversify our supplies of Ethiopian coffees, and to do so, get to know the Dukale brothers, who operate in two regions: Sidama and Woreda. The second objective is to exchange on the different ways of conducting fermentations in order to bring these coffees to the forefront of the specialty coffee scene, which is one of the best ways to promote them. 
Ethiopian coffees remain Terres de Café's priority
Sidama coffees, especially those from the Bensa zone, are internationally renowned. They have won the Cup Of Excellence* Ethiopia (a national competition for the best coffees from each producing country) in recent years.The Dukale brothers are at home in Bensa, they were born there and inherited their father's coffee business and the infrastructure that allowed them to export 200 containers (1 container = 300 bags of 60kg) of commercial coffee per year!
But times have changed and the Dukale brothers have largely scaled down. 25 containers in 2022, now making high quality specialty coffees. One container of specialty coffee earns them as much as five containers of commercial coffees. They are undergoing a total reorganisation to optimise their production and export of high value-added coffees.
Sashamo Dukale, the youngest of the brothers, who manages the grounds and fermentations has joined us. We arrive at the production area and visit a drying station specialising in plain coffees and a washing/drying station where washed, Honey Process and anaerobic coffees are processed. Then we visit some farms in the villages of Alo and Bombe.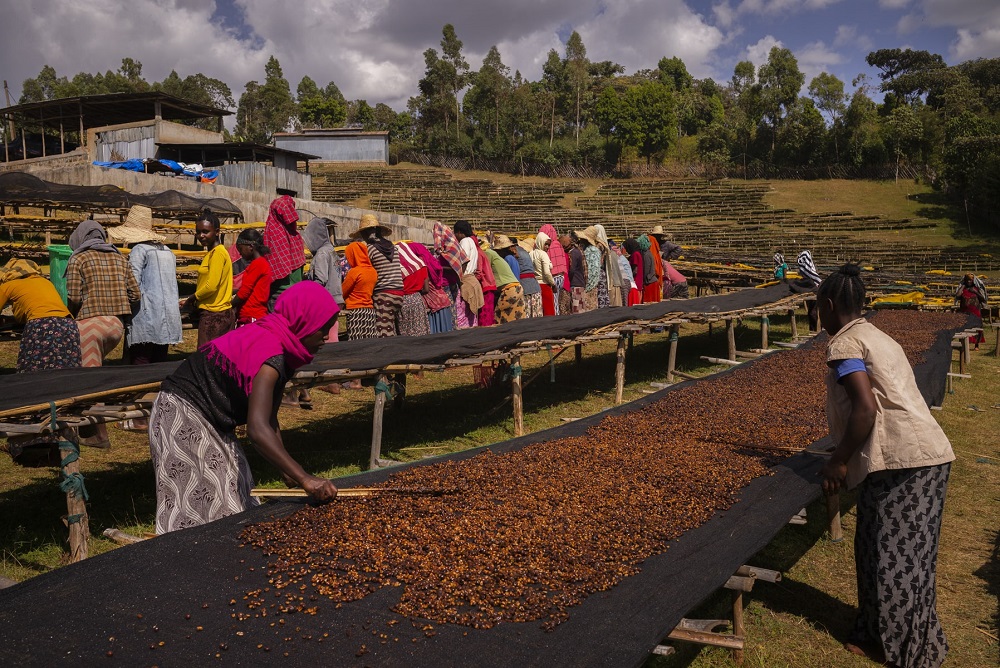 Ethiopia farm | Photo credit : Fabrice Leseigneur 
Immersion in Ethiopian life
Here, cherry production is carried out by thousands of small producers who produce in mixed farming on areas ranging from half a hectare to five hectares. Agroforestry cultivation without inputs. Under demographic pressure and climate change, families are moving higher and higher up, cutting down trees and organising a food and cash crop. They grow Ensat, the staple food, vegetables, fruit, some livestock and poultry, and coffee everywhere.
Families consume what they produce, and sell the surplus. Coffee, on the other hand, is a cash crop and is the main source of income for peasant farmers. Unfortunately, there are no more forests, but a landscape of wooded plots, far from agribusiness and chemical inputs. They now grow coffee at altitudes of up to 2300 metres.

As for Dukale, they work with about 800 farms, buying the cherries from collection points and transporting them to their drying stations according to the fermentation method chosen for the batch. Once the coffees are dried, they go to their sorting station in Bensa and then to the one in Adis Ababa for coffees destined for export. They thus control the entire production line, from collection to bagging.
They have been winning the Cup Of Excellence Ethiopia in recent years.
With 10 years of experience in fermentation, and structural means inherited from the commercial trade, the Dukale are now able to compete with the best Latin American farms, to work with volumes and have an exceptional raw material from the incomparable Ethiopian soil. It is no coincidence that we won the Ibrik with one of their coffees, and that we want to develop an extensive partnership with them.  

We spent quite a bit of time at their Shantawene plant, where anaerobic fermentation coffees are produced. We tested special processes that Pierre de Chanterac has experienced at Finca Josefina and Finca La Soledad in Ecuador. The aim is to further improve the quality of the cups and to continue winning competitions with these fabulous coffees. We will be able to taste these tests in a few weeks. To be continued.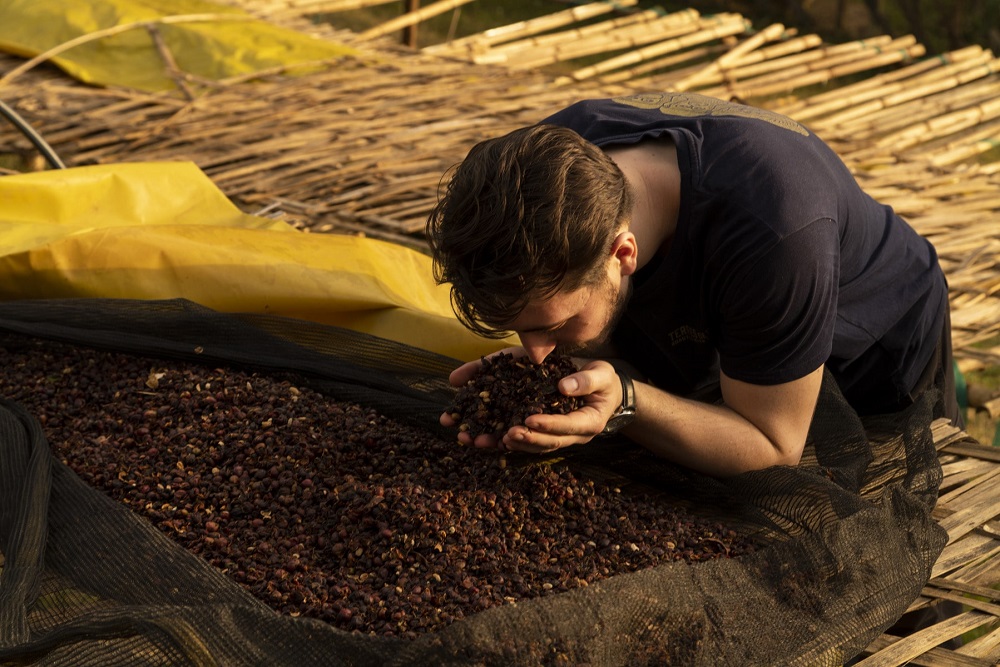 Pierre de Chantérac | Photo credit: Fabrice Leseigneur 
The end of a journey
We then made a foray into Woreda, and more specifically into the Gedeo Yirgacheffe area, where the Dukake also operate through 3 stations in the villages of Garse, Idido and Layu, which deliver some of the most beautiful Yirgacheffe.
Here it is the same type of agriculture but with a longer established coffee production. The trees are older, taller and the feeling of being under forest is somewhat revived. This gives an idea of what the Bensa area will look like in 20 years time. We were able to taste some of the coffees, they are sublime and one of them will enter our 2023/2024 range.
This country and its wonderful coffees are in the DNA of Terres de Café.
It is almost the end of the journey, in an Ethiopia that is authoritarian, tense, populated, young and poor. It will take time for the country to recover from the war. But the coffee has never been better and the exporting producers are already riding the wave of specialty coffee that demands more and more high quality coffee bought at high prices.


Coffee is one of Ethiopia's main assets in helping to rebalance its trade balance, which is in such deficit, and to improve the living conditions of Ethiopians. Ethiopian coffees remain Terres de Café's priority and if we can contribute in our small way to the return of social and economic progress in this wonderful country, our approach will be all the more meaningful. 
February 2023
C. Servell.
You might also like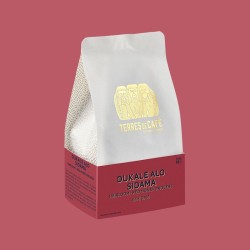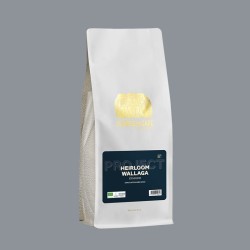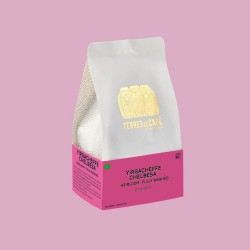 Related posts