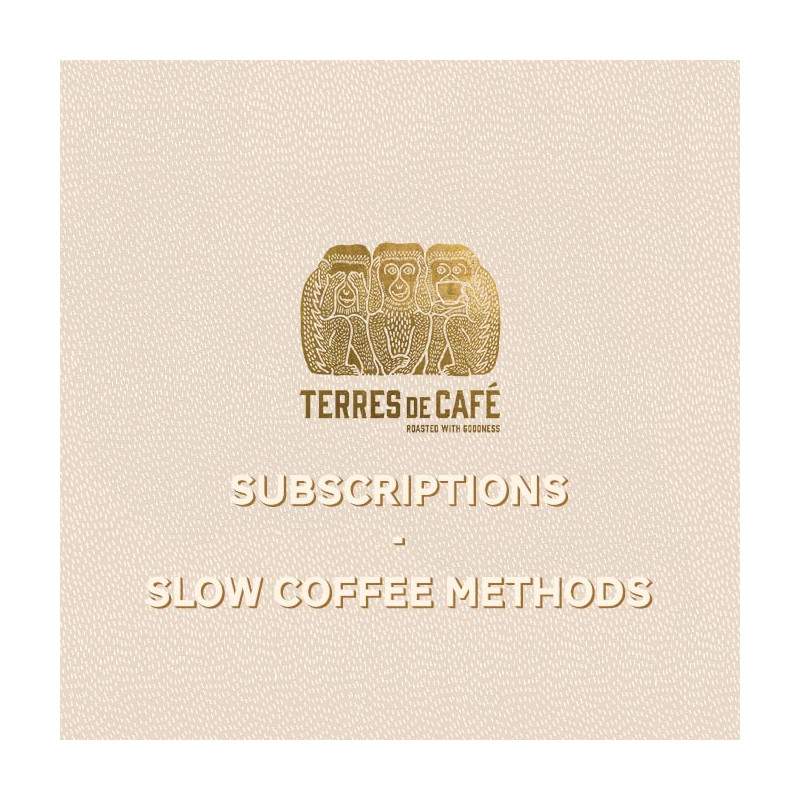 Slow Coffee Methods suscription - 3 months
The coffee of the Month : August 2019 : Rwenzori Mountain SL28 SL34 - Natural (85+), Ouganda
Tasting : Notes of tropical fruits on the nose, a very nice complex acidity with cherries, mangos, apples, and well balanced by a nice sweetness.
Sourcing notes: Uganda has a justified reputation for producing some of the worst arabicas in the world. It is quite the opposite with this batch from a cooperative that has focused on quality, training small producers and paying more for quality. We support
This coffee is recommended for :
Coffees of September and October

September 2019: El Manzano Orange Bourbon - Natural Honey (88+), Salvador
Tasting : An enticing nose of fruits, a soft and velvety body, notes of milk chocolate and exotic fruits, superb acidity. Perhaps the best Salvadoran coffee this year.
Sourcing notes : Each year, Emilio releases a few exceptional batches in ultra-limited quantities. We had the chance to taste them on the farm just after harvest. This Bourbon Orange scored best in the tasting. .
October 2019 : La Floresta, Washed Maracaturra (88+), Colombia
Tasting: Gourmet aromas of chocolate and lemon, round body with creamy and fruity flavours of cherries, orange blossom and pomegranate.
Sourcing notes : Farm discovered during the sourcing of the Bourbon Project. Even though focused on the selection of the best Bourbons in the region, we could not resist this wonderful nano-batch of Maracaturra. Maracaturra is the speciality at La Floresta. Growing naturally in these plantations, more than a third of the production of this 2-hectare farm is now taken up with Maracaturra.
---
Subscribe to a sustainable supply sector ?
Our 10 years of roasting and sourcing allow us to today take a step back on what we do and how we do it. In 10 years, Terres de Café has become one of the leading speciality coffee players in Europe. This success is largely due to our sourcing policy, a pillar of our founding principles of traceability and sustainability.
• Favour coffee grown using agroforestry to combat climate change, deforestation and promote the expertise and the attachment of farming communities to their lands,
• Optimise volumes of coffee purchased from long-term partners to create strong ties and to give them visibility in terms of qualitative and quantitative development,
• Sensitize partners about environmental and social sustainability and support them with training and purchase commitments,
• Promote the quality, traceability and safeguarding of agricultural heritage through high purchase prices compared to "commodity" market prices, thus enabling smallholders to live off their work,
• Maintain a continuous, direct and trusting relationship with partner producers, Not collaborating with agribusiness multinationals that destroy resources and forests.