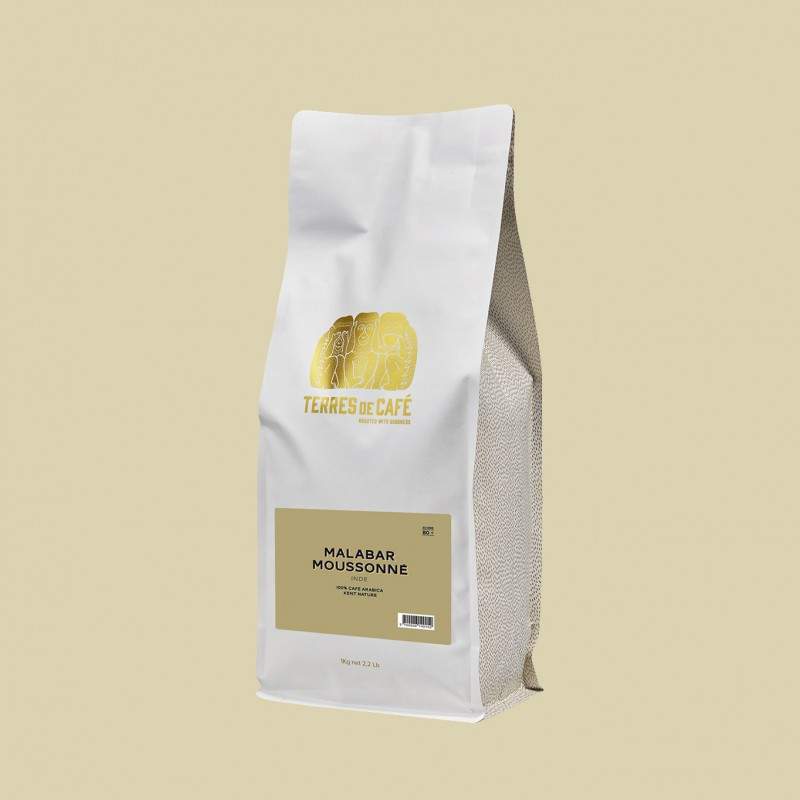 Coffee Malabar Moussonné - 1kg
Tasting note
The "Malabar" is dried in a humid environment during the monsoon. Which is contradictory and generates an atypical coffee with a unique, woody and full-bodied profile. A great classic for espresso lovers with a woody and slightly bitter finish. Particularly explosive on extraction, a nice crema for fans of the genre.
On the nose, racy and wild. Notes of sweet spices and wild herbs.
On the palate, the attack is surprising with an aggressive body which lets aromas of cocoa, wood and wild herbs explode. A woody finish on fresh almond.
Roasted in France by Terres de Café.
This coffee is roasted for espresso methods.

What is a score?
Our product range is categorised by score: 80+, 85+, 88+ We have the "Specialty Coffee Association of America" to thank for the system of "scores", who defined a very strict ratings protocol to evaluate the quality of speciality coffee. This ratings system enables players within the sector, as well as coffee lovers, to share a common language. Within this tasting protocol, the main criteria for the evaluation of a coffee are noted: odour, aroma, after-taste, acidity, body, harmony, purity...
The final score classifies the coffee within a hierarchy unique to speciality coffee. The coffee must achieve a score of at least 80/100 to be considered a speciality coffee.
A detailed look at the scores attributed to speciality coffee:
Our blends, being mixtures of multiple coffees, are excluded from the rating system, although they are all comprised of speciality coffees.
*The SCAA classifies 90+ coffees as "Outstanding". We consider an 88+ coffee to reflect a quality that is already outstanding, already representing the excellence of the sector. In this regard, it is a Grand Cru.
---
Blending note
Malabar is a region located on the southwest coast of India. The influence of sea winds and its so-called "mossy" fermentation method give all the typicity to this coffee of character.
A bit of history: The largest and most coveted of the moussonnées coffees, it does not lack character. In the days of the sailing navy, it took about six months for coffee from India to reach Europe. The humidity then affected the coffee, which fermented and changed color. When the delivery time was shortened, this unique flavor of fermentation was missed by Europeans. Thus, taking advantage of this demand and the southwest monsoon between May and June, India embarked on the process of monsooned coffee.
A speciality coffee
Speciality coffee are the best batches of coffee from farms or local cooperatives. They are fully traceable (botanical variety, region, plot) and respect demanding processing methods. This guarantees exceptional quality in the cup.