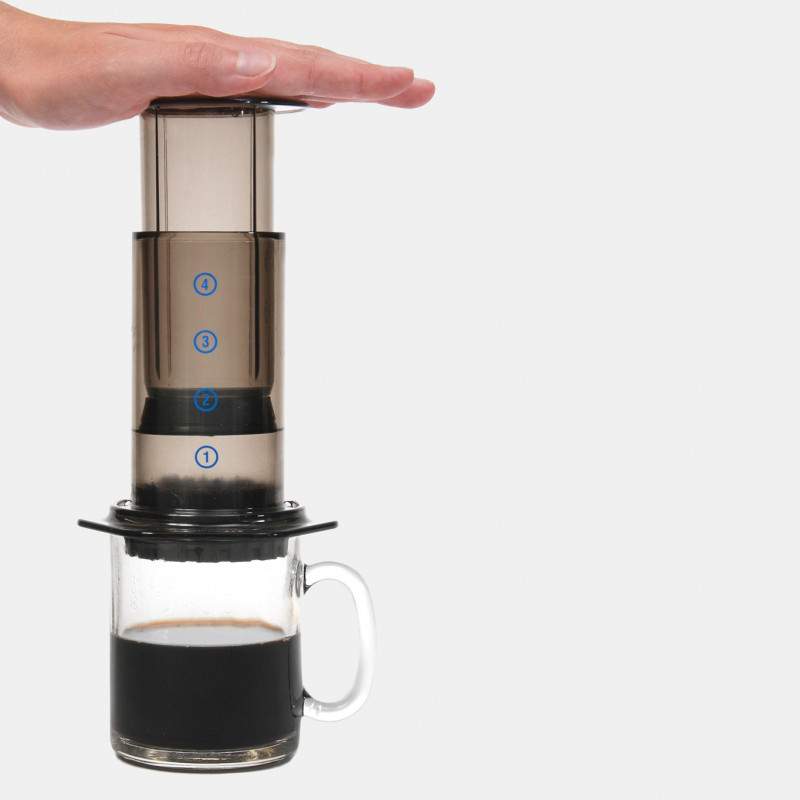 Nomad coffee maker - AEROPRESS
Description
Nomad French press AEROPRESS
Perfect to make a coffee easily when travelling, or even in your kitchen ! With the AEROPRESS, prepare smooth and bitterness coffees quickly : 1 to 3 cups in a few second. The AEROPRESS cleaning is simple, as it goes to the dishwasher.
A travel cover is offered.
Use of the AEROPRESS :
• Add 2 AEROPRESS spoons for one coffee of 150 ml (measure 2) of water.
• Add a filter on the lower part (do not forget to wet the filter before!).
• Pour the water. For a perfect extraction, we recommend a water with a temperature from 80°C to 95°C (do not exceed this temperature).
• Melt with the AEROPRESS spoon and let rest 15 seconds.
• Close the pistonwith the filter and turn it on your glass
• Press slowly the coffee with the "suction cup"
• Your espresso is ready ... Taste it! A tight grinding, between 15 and 17g of coffee for 150ml of water will allow you to enjoy an aromatic and bold coffee !
Technical characteristics
Dimensions : H 28 cm.
Weight : 0.490 kg
Characteristic : Made in USA
Cleaning : All heat sources including induction. Dishwasher safe.
---
AEROPRESS
Created in 2005 by Stanford professor Allan Adler, Aeropress came about one day at the dinner. Adler's wife suggested she had always problems when she just wanted to brew a single cup of coffee.
You might also like