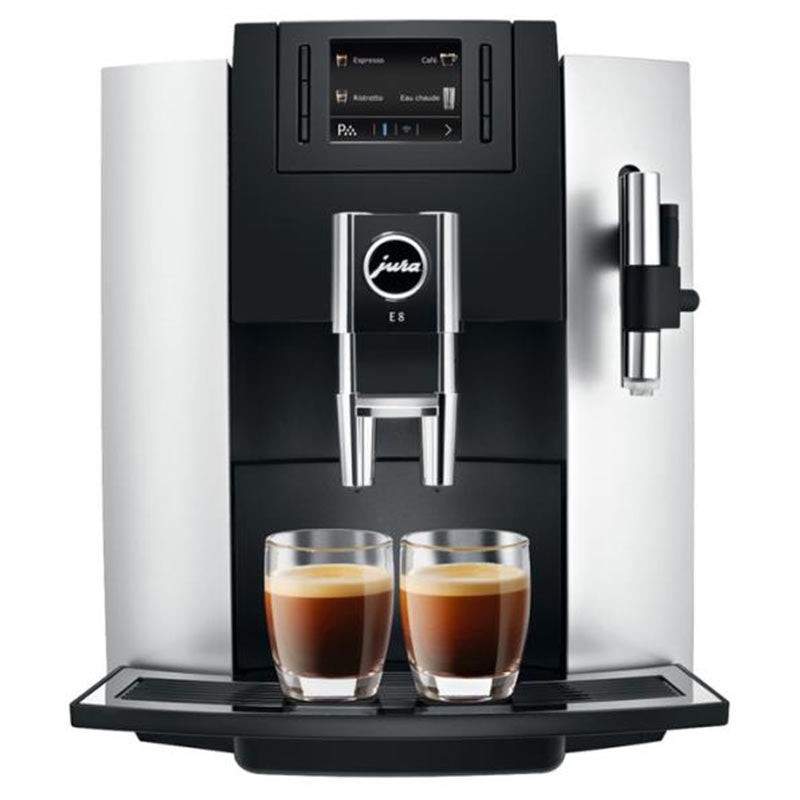 Description
Automatic coffee machine E8 Moonlight Silver. One of our Automatic coffee machines with many features and high-end finishes. It is a machine at the cutting edge of technology that will delight you. 
The advantages of the E8 Moonlight Silver:
Intelligent preheating
Brewing technology 3
Intelligent mode     
JURA Cockpit with maintenance status display  
WiFi connection to the home network        
Transmitter included      
Pulse Extraction Process (P.E.P.®)
One-Touch Lungo function
One-Touch function
Variable percolation unit 5 - 16 g
Grinder: Professional Aroma Grinder
High efficiency pump, 15 bar
Thermal block heating system
Liquid circuits 
Milk system / interchangeable milk outlet: HP3 / CX3
Ground coffee tank 
Aroma protection cover
Standard control and programming technologies
J.O.E.® compatible      
2,8'' color display
Individually programmable and adjustable coffee water quantity
Individually programmable and adjustable coffee strength (levels): 10
Programmable milk and milk foam quantity             
Programmable brewing temperature (levels): 3
Hot water temperature adjustable (levels): 3
Intelligent Water System (I.W.S.)
CLARIS filter cartridge 
One-Touch milk system cleaning (automatic)    
Integrated rinsing, cleaning and descaling program
Drip tray control
TÜV-certified JURA hygiene
Energy Save Mode (E.S.M.©)
Zero-Energy Switch or power switch
Programmable switch-off time
We only ship coffee machines in France. For more information on the product, please contact eshop@terresdecafe.com
Technical characteristics
Dimensions (W × H × D): 8 x 35.1 x 44.6 cm 
Weight: 9.6 kg
Product Specialties: Espresso, 2 x Espresso, Coffee, 2 x Coffee, Cappuccino, Cappuccino Extra Shot, Caffè Barista, Lungo Barista, Espresso doppio, Espresso macchiato, Cortado, Latte macchiato, Latte macchiato Extra Shot, Flat white, Flat White Extra Shot, Portion of milk foam, Hot water.
Capacity of water tank: 1.9 l
Bean container capacity: 280 g
Cable length (approx.): 1.1 m
Voltage / Power: 230 V ~ / 1450W
Current consumption: 10 A
Warranty: 3 years
---
JURA
JURA is a Swiss company founded in 1931 and specializes in innovative household appliances at the highest level, especially fully automatic coffee/espresso machines. The brand stands for innovation, precision, quality, reliability and durability. Its machines are easy to use, intuitive and aesthetic.
You might also like