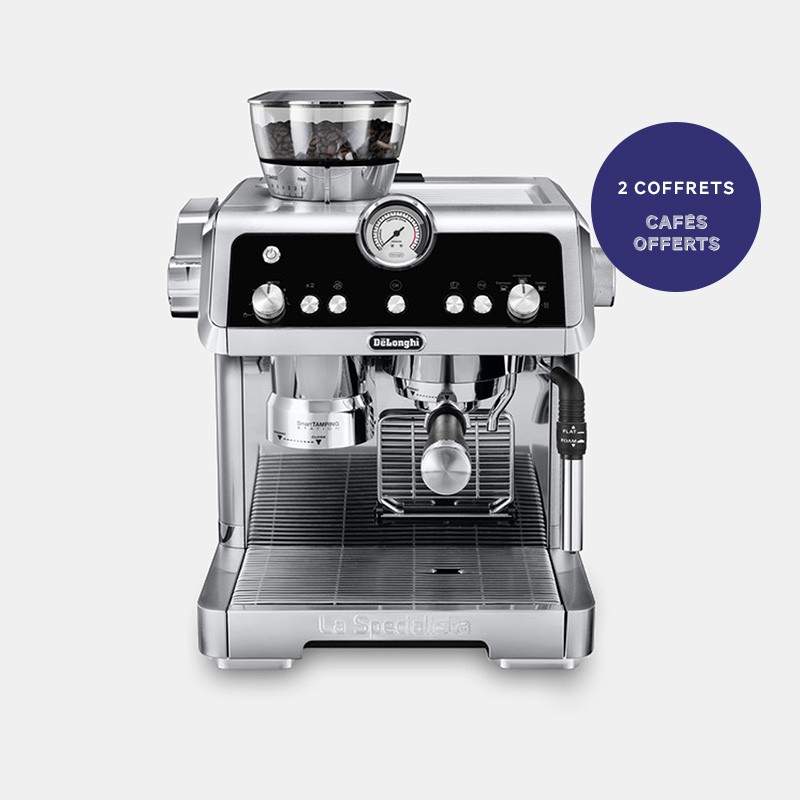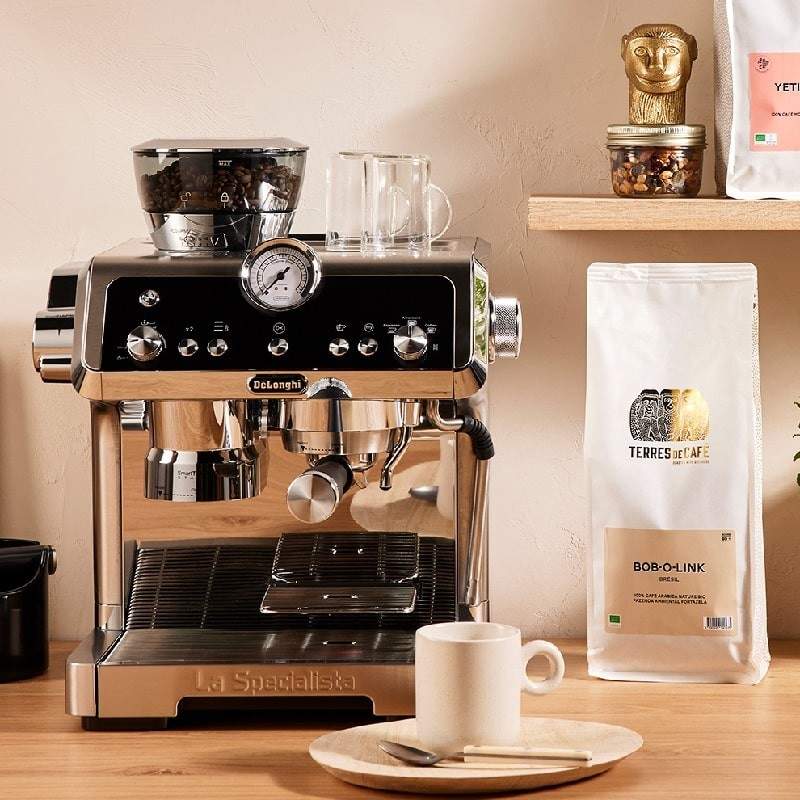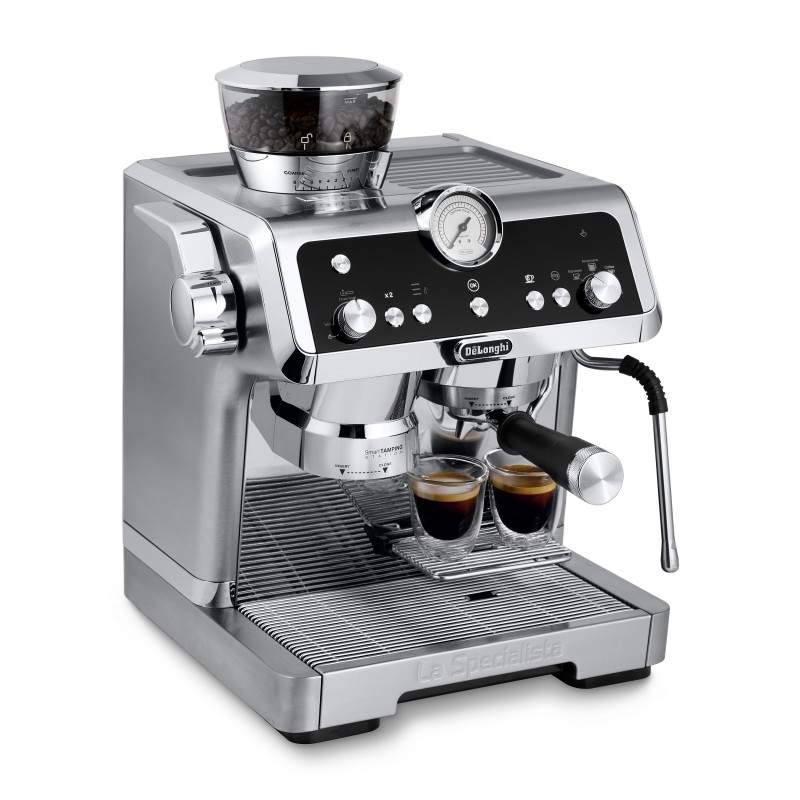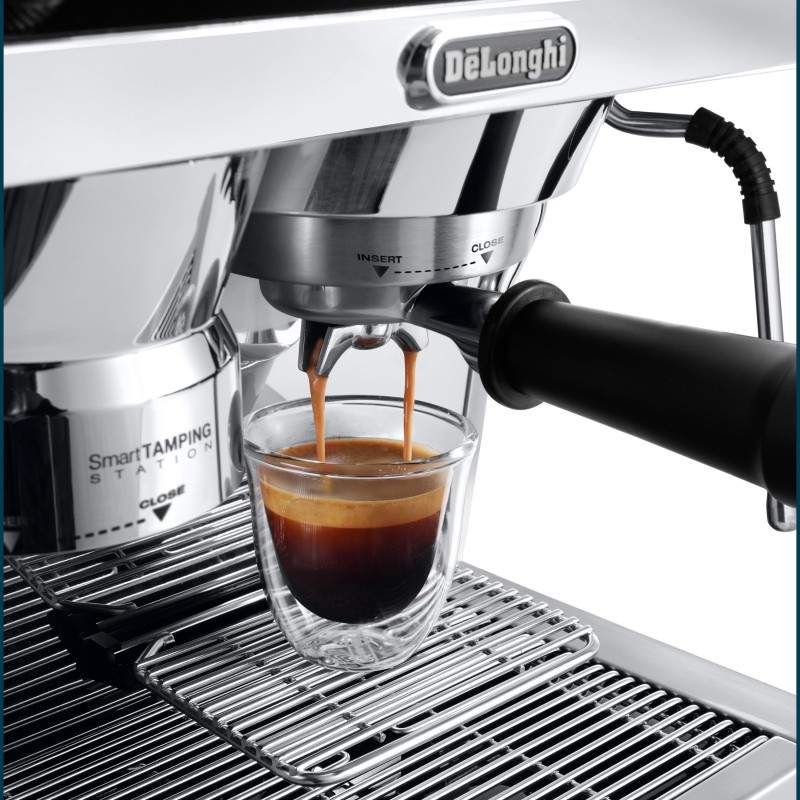 Specialista Prestigo EC 9355.M - Machine espresso
Description
The Specialista Prestigio is the new espresso machine with integrated grinder from De'Longhi. Designed for great espresso lovers, La Specialista Prestigio allows you to reproduce all the essential steps of a Barista at home.
5 innovatives technologies : 
SensorGrinding : guarantees a constant and optimal dosage of coffee for perfect drinks. The grinder detects the fineness of grind selected, calibrates itself and adjusts itself to deliver the ideal dose of ground coffee.
SmartTamping : ensures perfect tamping without the slightest difficulty and in complete cleanliness. Simply lower the side lever to apply the optimum pressure on the grounds, with each preparation.
ActiveTemperature : guarantees a stable temperature for exceptional drinks. Two independent heating systems allow you to prepare coffee and milk drinks perfectly.
DynamicPreinfusion : guarantees a pre-infusion that adapts to the quantity of ground coffee so that the entire surface of the ground coffee is uniformly wet regardless of the coffee used, for a perfect extraction.
My LatteArt : Allows you to use a semi-professional steam nozzle to successfully froth all your milk and obtain smooth Cappuccinos or Latte Macchiatos with ease.
Characteristics
Dimensions : L 380x P 370x H 445mm
Weight : 13,5 kg
Bean hopper capacity : 250g 
Water tank capacity : 2L
Power (in watt) : 1450 W
Pump pressure : 19 bars
Water tank capacity : 2L
Removable cup and mug tray : Up to 120mm
Colors : Inox
Packing : 1/2
Guarantee : 3 years
Technical Characteristics
5 innovative technologies
3 pre-recorded recipes: espresso, coffee, americano
MY fucntion
Management of the quantity of coffee to be ground
8 fineness of grinding
Use the "OK" button to rinse the extraction group ("Flush")
Single filters 1 or 2 cups and blind filter
Pressure gauge to control the extraction
Full stainless steel body
Semi-professional steam nozzle
Dedicated water nozzle for tea and americano
Accessories included: Milk jug, descaler, single filters 1 or 2 cups
---
De'Longhi
Created in 1902, De'longhi is an Italian brand specialized in household appliances. Since the 1990s, the brand has been manufacturing quality automatic coffee and espresso machines, mixing performance and innovation.
You might also like