SEASON 2019 2020 SUBSCRIPTIONS
Our 10 years of roasting and sourcing allow us to today take a step back on what we do and how we do it. In 10 years, Terres de Café has become one of the leading speciality coffee players in Europe. .
This success is largely due to our sourcing policy, a pillar of our founding principles of traceability and sustainability.
A CHARTER SUSTAINABLE INDUSTRY 
FOR AN EXEMPLARY AND 
SUSTAINABLE INDUSTRY
• Favour coffee grown using agroforestry to combat climate change, deforestation and promote the expertise and the attachment of farming communities to their lands,
• Optimise volumes of coffee purchased from long-term partners to create strong ties and to give them visibility in terms of qualitative and quantitative development,
• Sensitise partners about environmental and social sustainability and support them with training and purchase commitments,
• Promote the quality, traceability and safeguarding of agricultural heritage through high purchase prices compared to "commodity" market prices, thus enabling smallholders to live off their work,
• Maintain a continuous, direct and trusting relationship with partner producers, Not collaborating with agribusiness multinationals that destroy resources and forests.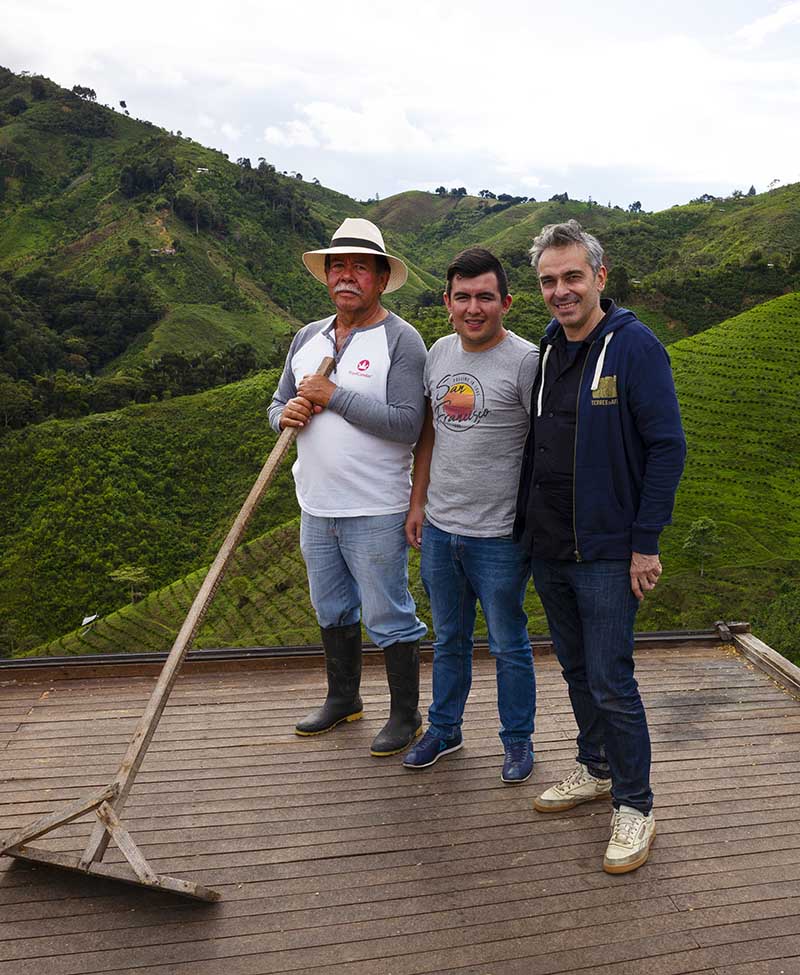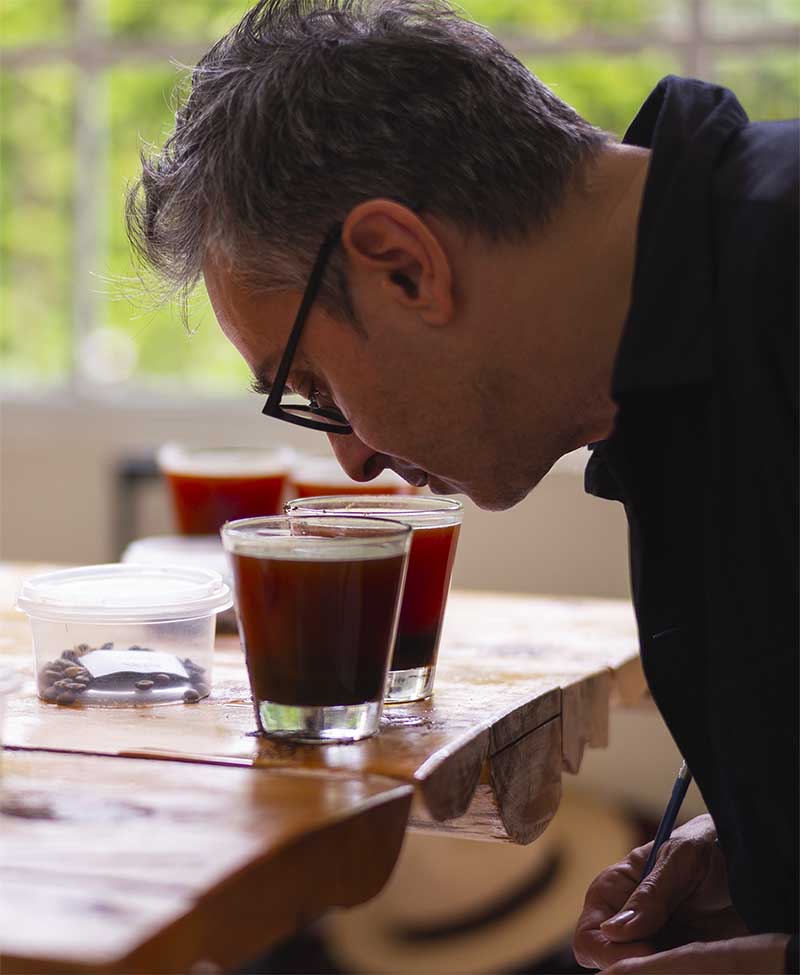 MASTERY OF THE PROCESSES
The production of speciality coffee began in earnest about 15 years ago but still accounts for a small percentage of production, at around 20%. Speciality producers have their own farm (often inherited from their family), are educated, speak English, travel and take care of the commercial development of their activities. They represent the vanguard of Salvadoran coffee.
What today characterises the speciality coffee of El Salvador is the quality of its processes.
Until the 2000s, the cafes were only washed. Renowned for their softness, their scores rarely exceeded 85/86. Today, all varieties and processes are tested and practised.
Thanks to millimetric processes and the use of famous varieties such as Maragogype, Pacarama, Bourbons, SL 28 or 34, El Salvador offers more complex and fruity cups scoring over 88, even though this is still exceptional.
Since 2012, we have been working with Mauricio Sallaveria and his farm called Himalaya in Apaneca-Ilamatepec. In this region, we have also sourced other producers, varieties, plots and processes. Happy tasting.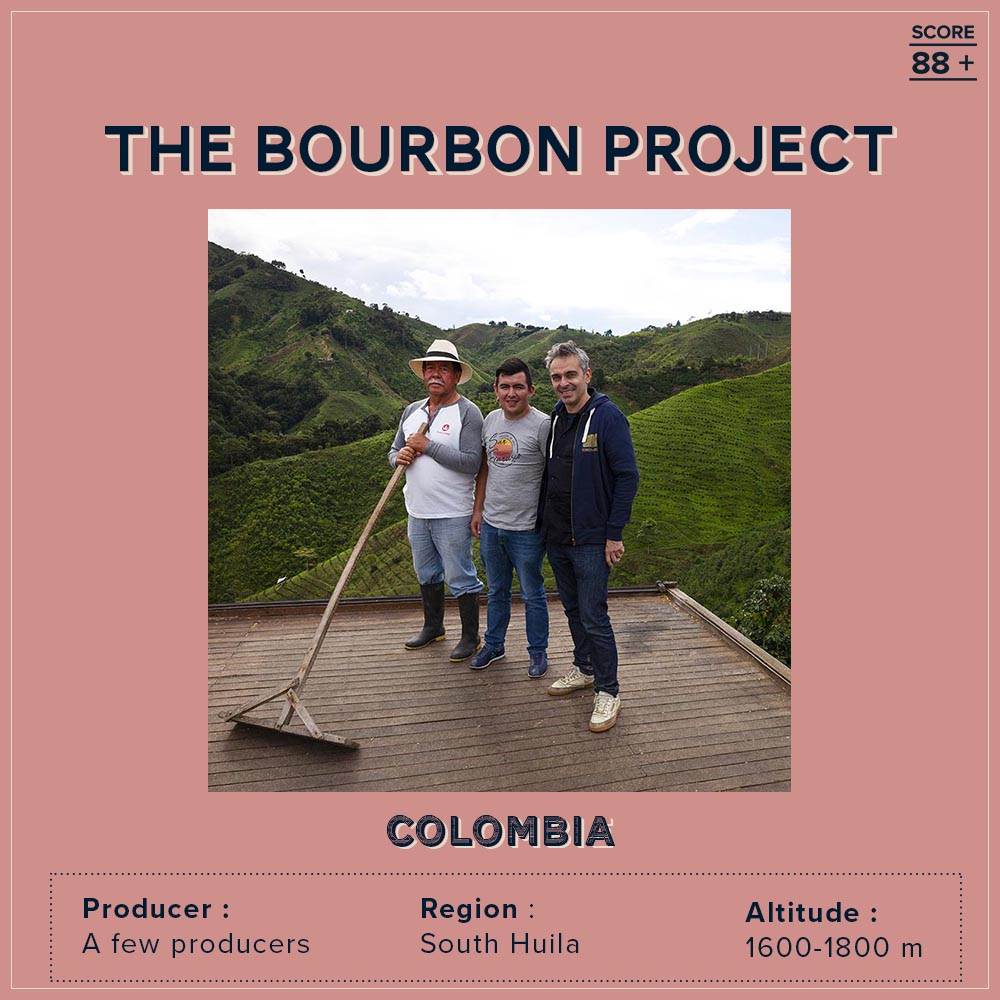 BOURBON YELLOW, RED AND ROSE - WASHED
Tasting : A complex and pure cup, with notes of flowers, tea, red fruits and sweet citrus. A silky body supported by a wonderful tension.
Sourcing notes:  More than 100 batches of Bourbons tasted to retain 13 and create a very high-quality batch, reproducible each year with the same farms. Coffees bought at double the market price. In short, our idea of sustainable sourcing.
BOURBON RED - NATURAL  
Tasting : Sweet notes of nougat and cocoa. On the palate a vibrant and pure coffee, a beautiful citric acidity with notes of ripe pineapple and mango. A masterful finale.
Sourcing notes : Salum Ramadhan is one of the few independent producers in Burundi, a country where the coffee sector is largely dominated by food multinationals. Salum owns his farms and treatment plants. He is passionate, and the quality of his micro-batches is remarkable. This natural coffee impressed us at the tasting.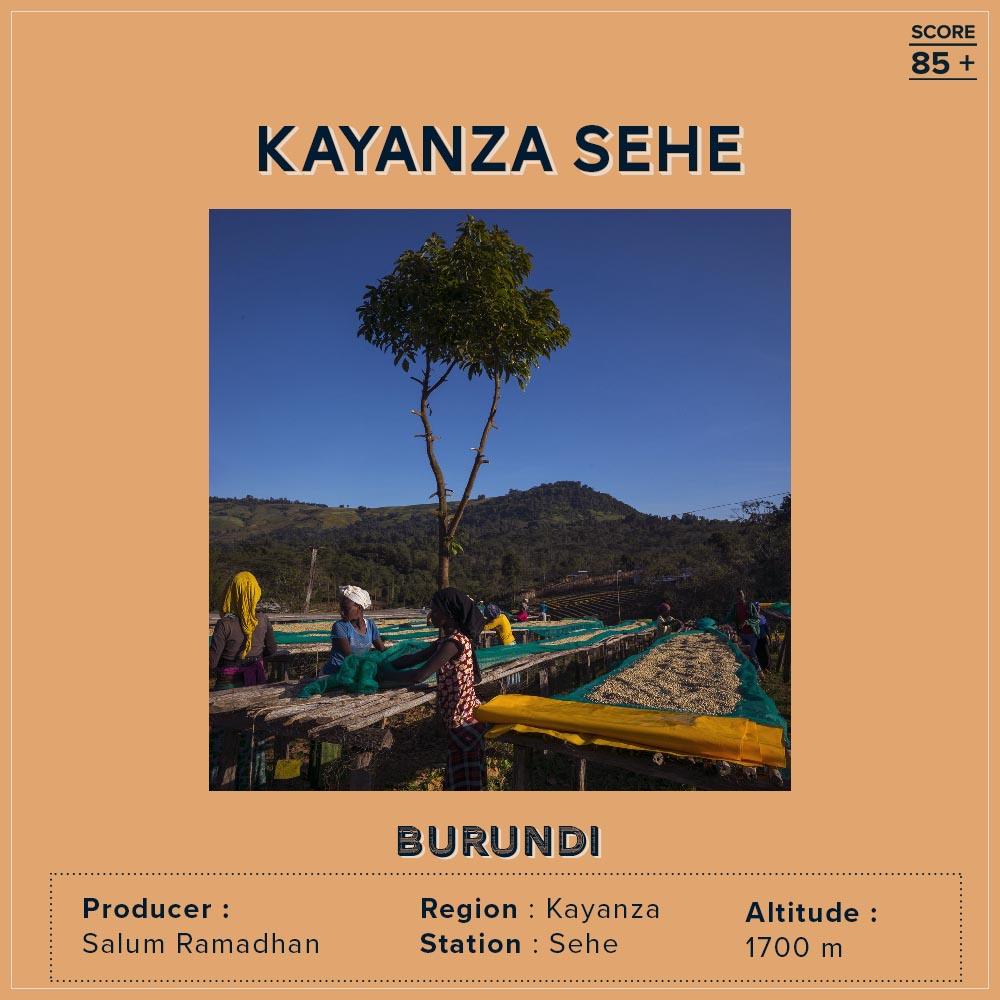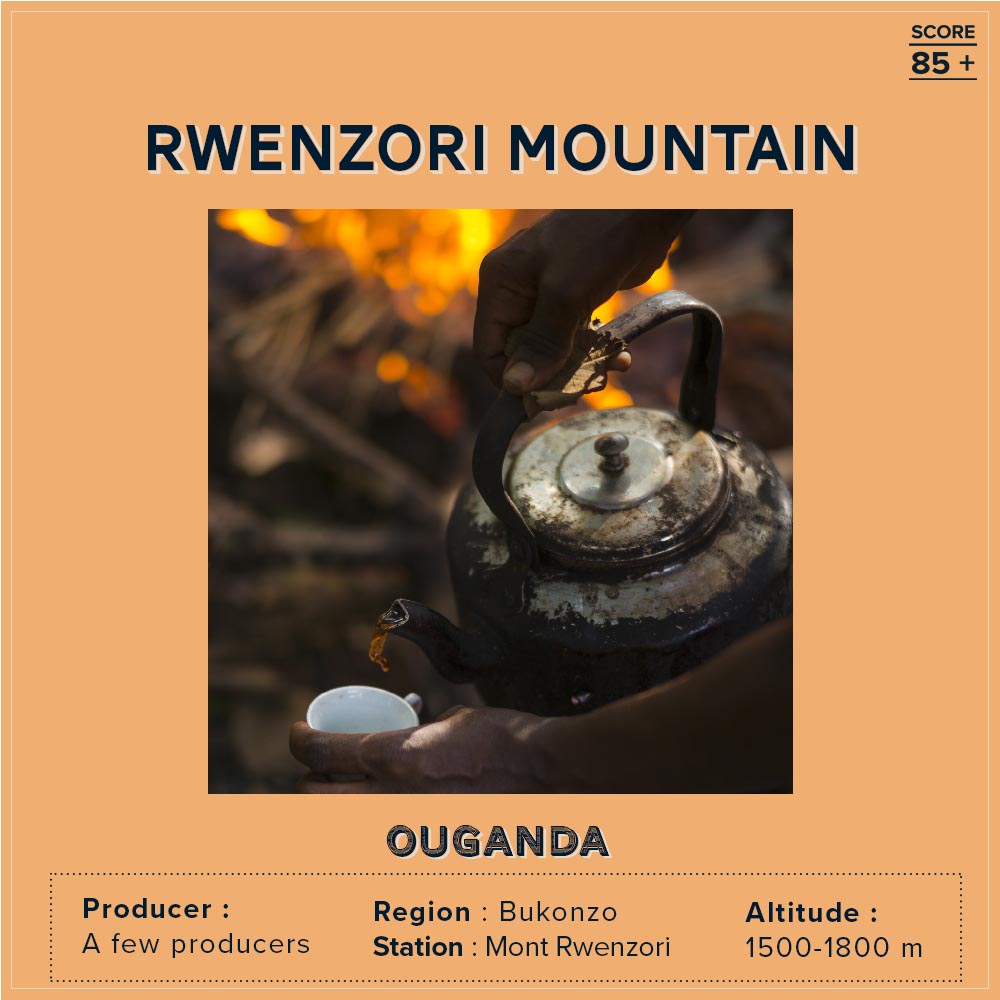 SL28 SL34 - NATURAL
Tasting: Notes of tropical fruits on the nose, a very nice complex acidity with cherries, mangos, apples, and well balanced by a nice sweetness
Sourcing notes : Uganda has a justified reputation for producing some of the worst arabicas in the world. It is quite the opposite with this batch from a cooperative that has focused on quality, training small producers and paying more for quality. We support it.
BOURBON ORANGE - HONEY
Tasting: An enticing nose of fruits, a soft and velvety body, notes of milk chocolate and exotic fruits, superb acidity. Perhaps the best Salvadoran coffee this year.
Sourcing notes : Each year, Emilio releases a few exceptional batches in ultra-limited quantities. We had the chance to taste them on the farm just after harvest. This Bourbon Orange scored best in the tasting.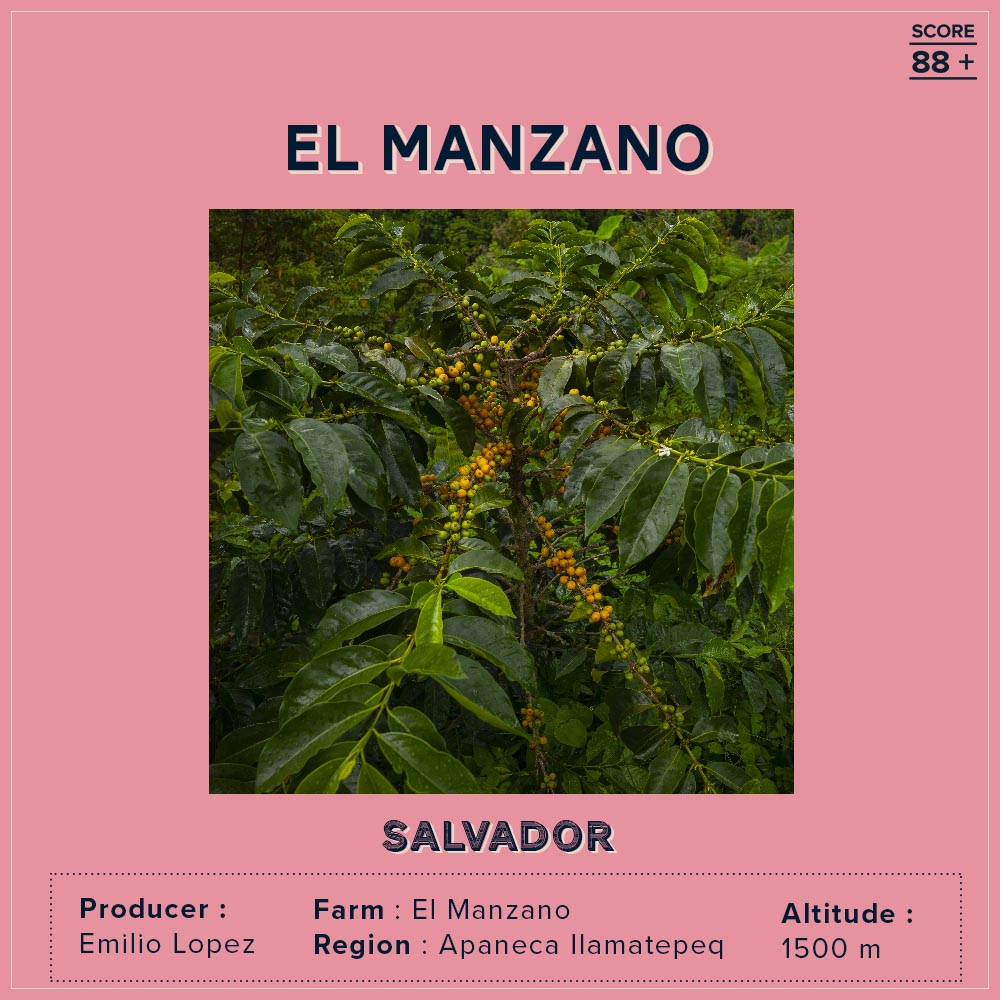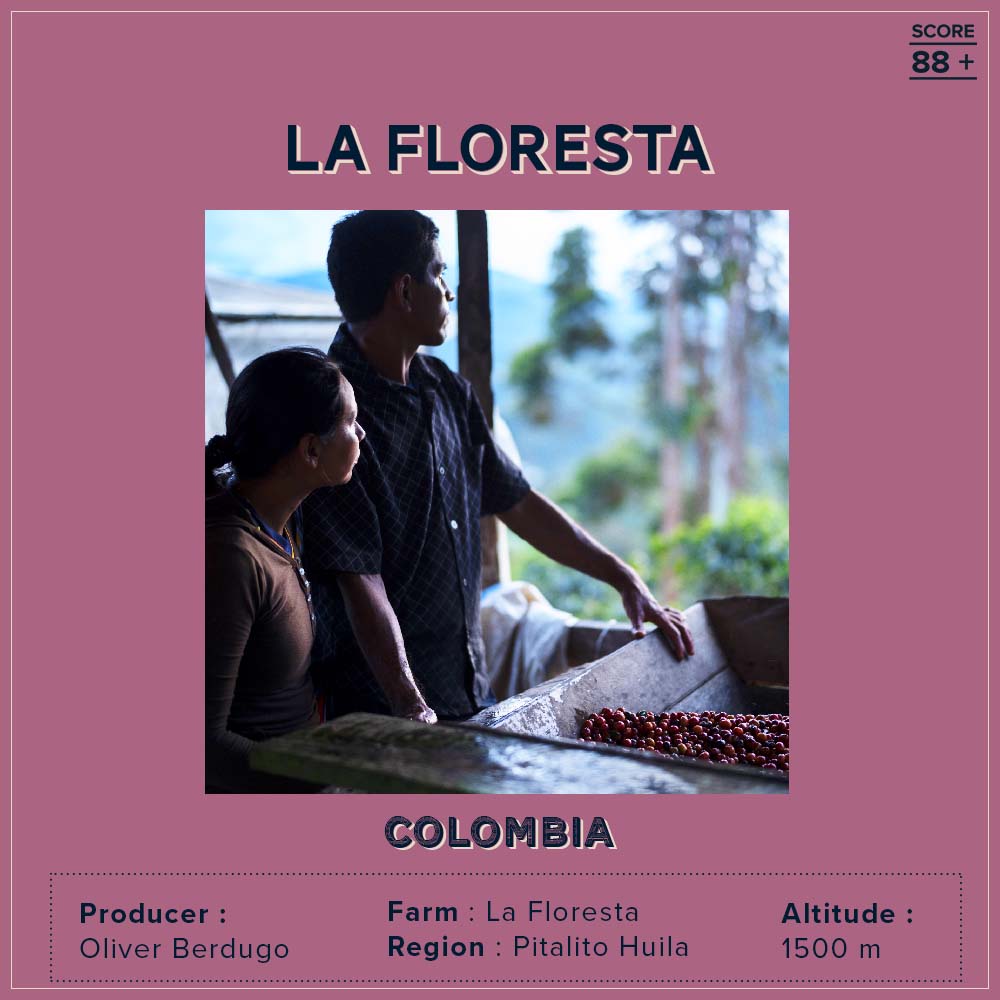 MARACATURRA - WASHED
Tasting:  Gourmet aromas of chocolate and lemon, round body with creamy and fruity flavours of cherries, orange blossom and pomegranate.
Sourcing notes : Farm discovered during the sourcing of the Bourbon Project. Even though focused on the selection of the best Bourbons in the region, we could not resist this wonderful nano-batch of Maracaturra. Maracaturra is the speciality at La Floresta. Growing naturally in these plantations, more than a third of the production of this 2-hectare farm is now taken up with Maracaturra.
PACAMARA - HONEY
Tasting: Flowers and lemongrass on the nose, a vibrant body, juicy acidity, lemon... a sharp cup.
Sourcing notes : At Ataco, village close to the plantations, I stopped at Bourbon Coffee Roaster to have a last espresso before leaving for Paris. This unlikely coffee shop with no sign is run by Jonatan Mendoza, two-time barista champion of El Salvador. He served me one of the best espressos of my life. I asked him where the coffee came from and he replied: "the producer is sitting behind you my friend". The rest of the story is in your cup...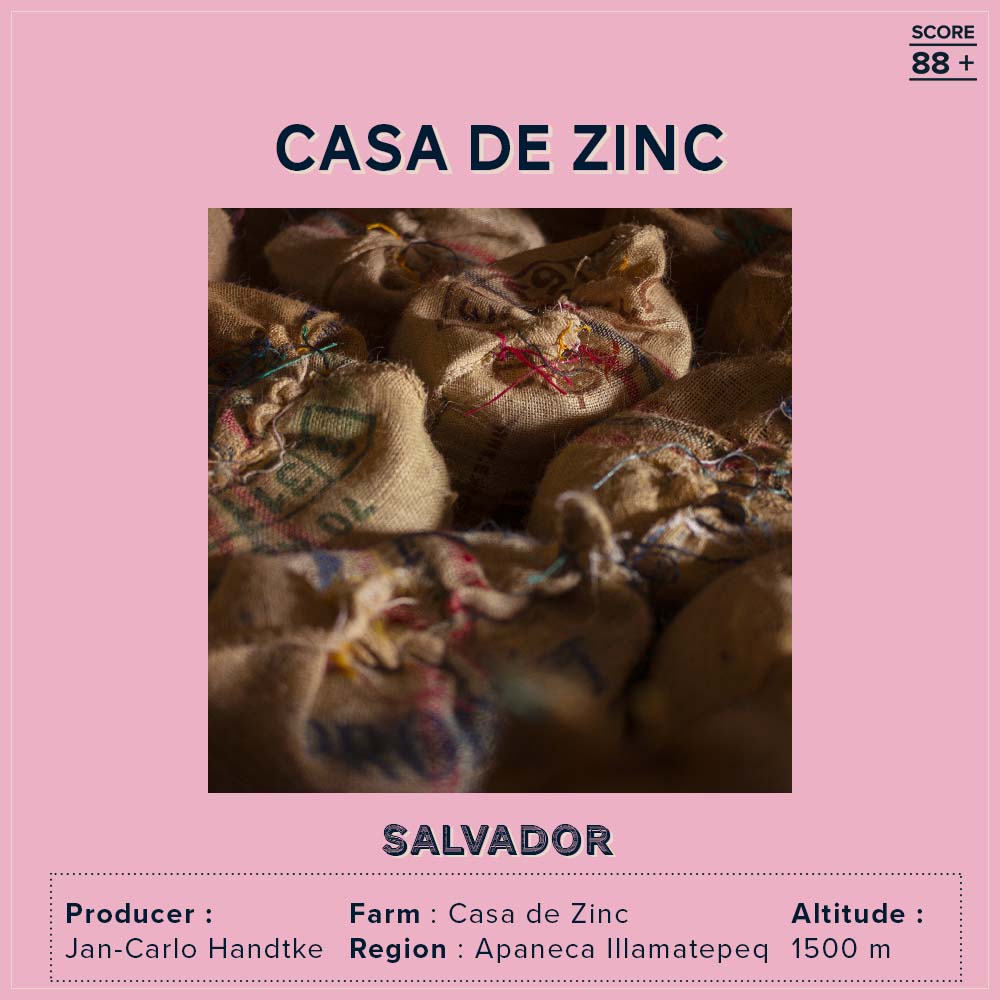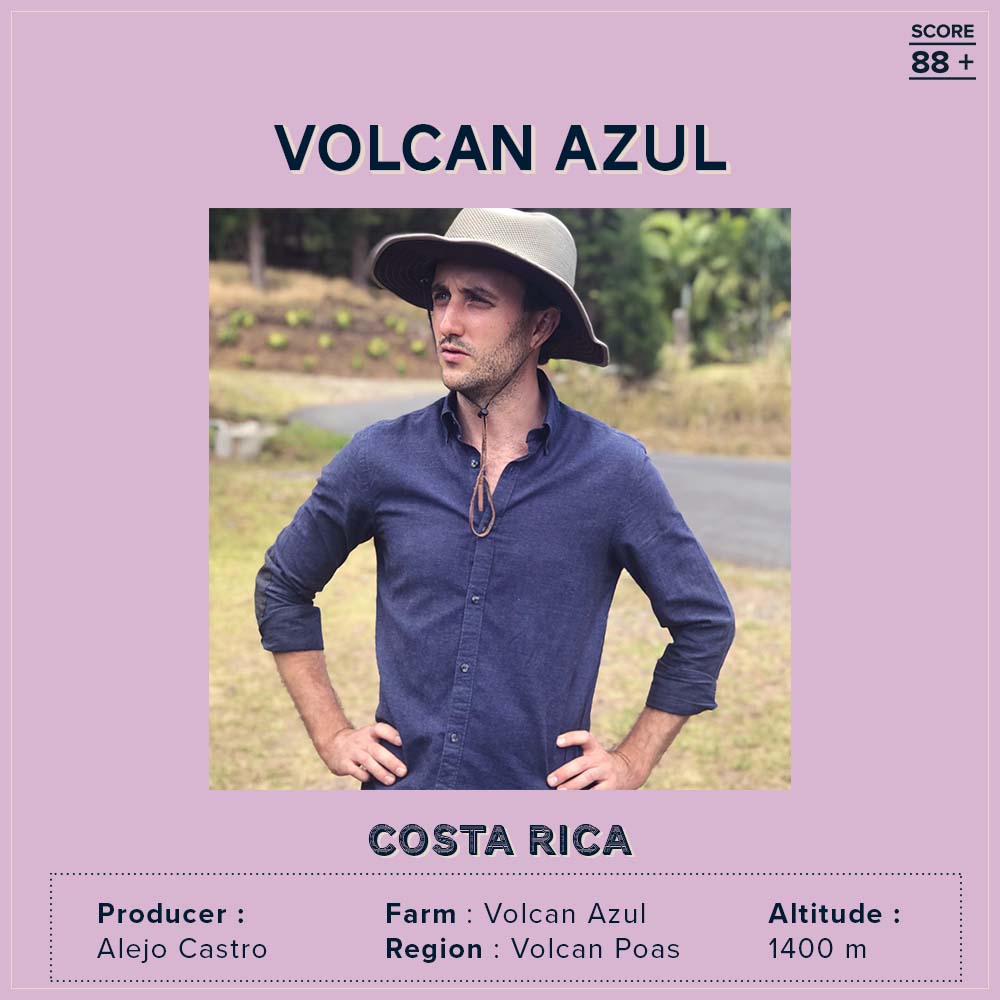 TYPICA - RED HONEY
Tasting: White flowers, velvety body, ripe red fruits. A cup of total finesse, close to a beautiful geisha.
Sourcing notes : Alejo's production improves year after year with his trees ageing well, more and more controlled processes and a sustainable approach to the management of his farm. This typica is one of the nano-batches that we have selected for this year.
FULLY WASHED
Tasting: A nose of blackcurrant flowers, a fine body, green apple and sharp acidity for a full and very lively cup. Refreshing.
Sourcing notes : The technical management of the Chania Estate farm is impeccable and the varietal stock exceptional, including the sublime French Mission, the first variety planted in Kenya, ancestor of the SL. Aware of our sustainability requirements and the need to change farming practices, Chania is embarking on a programme of partial reforestation of the farm. To be continued...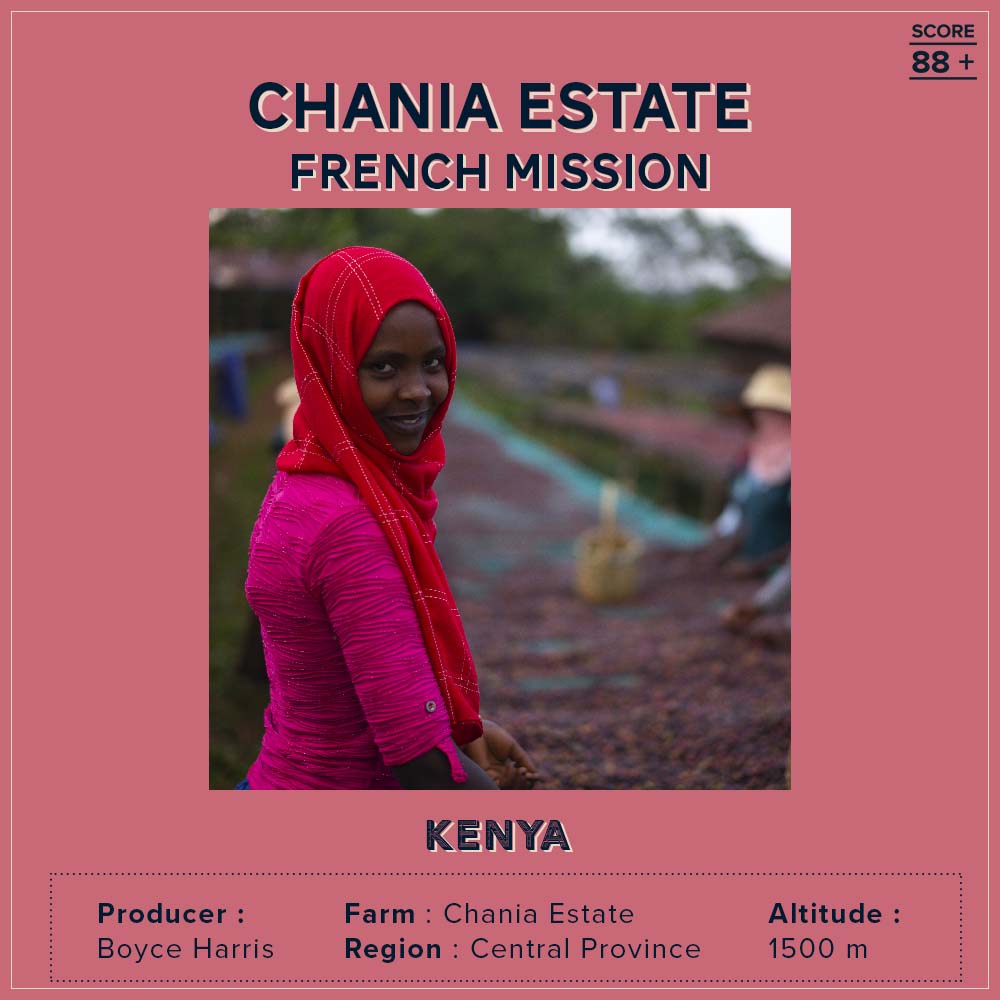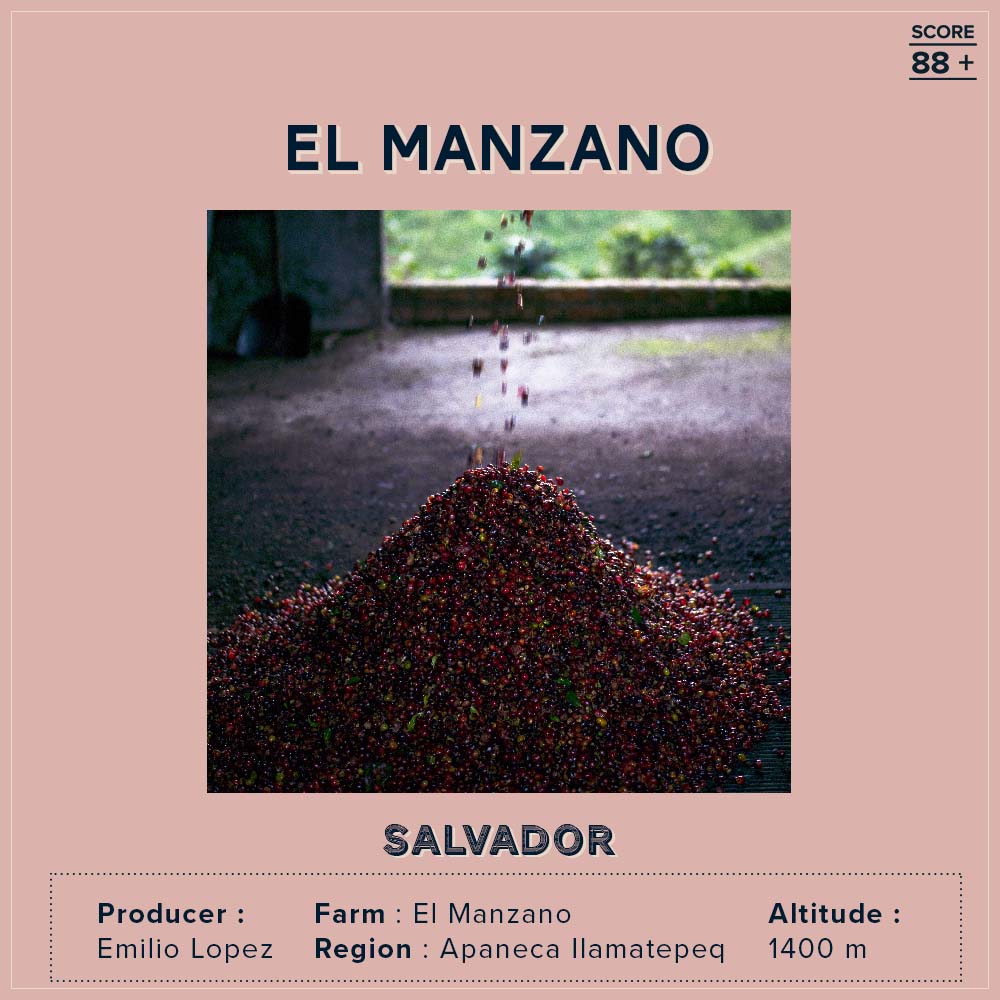 SL 34 - HONEY PROCESS
Tasting: Fruits and spices on the nose, a silky body, juicy and complex acidity, lots of sugar, exotic fruits.
Sourcing notes : Another hit for a Salvadoran where normally softness is the rule. This SL throws away the standard! Came second in our post-harvest cupping on the farm. Emilio Lopez, one of the pioneers of speciality coffee in Central America, again demonstrates his skills.
HEIRLOOM - HONEY PROCESS
Tasting: Spices, flowers and nougat on the nose. A fine citric acidity on the palate. Almonds, cinnamon and lemon come together in a harmonious and delicious nectar.
Sourcing notes : First trip to Jimma, sublime coffee region and one of the Arabica coffee houses, and first meeting with Khalid in his small orchard farm, and first project. This nice Heirloom in honey process is already a great coffee. A little work and it will ready for the competition. The magic of Ethiopia where something inspirational can be produced with almost no means..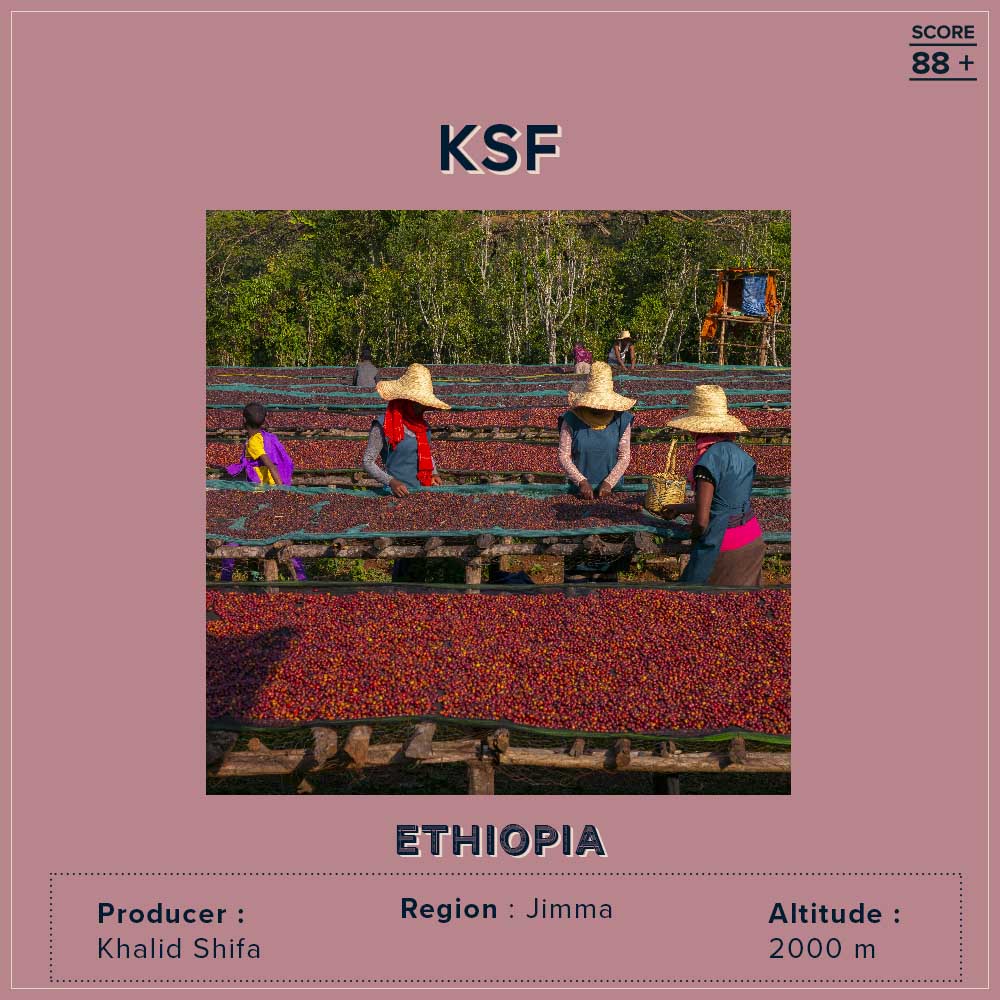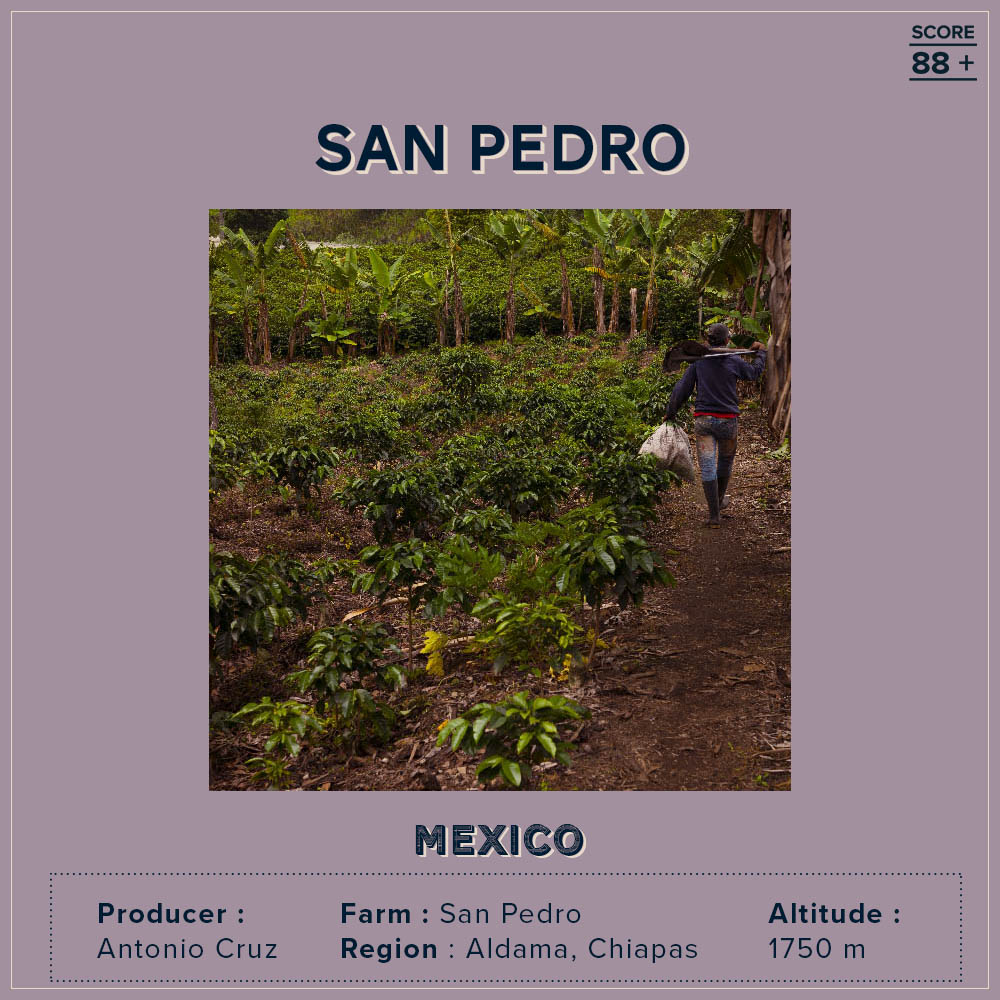 TYPICA, BOURBON, CATURRA - NATURAL
Tasting: Very fresh taste just after harvest, impression of drinking lemonade with fresh herbs.
Sourcing notes : Antonio is both farmer and roaster. He knows what he is talking about and has a vision of where he is going. And when we taste his coffee, we are going with him. Multi-varieties, multi-process and multi-batches, cover trees and sustainability. Certainly the beginning of a long collaboration.
TABI - NATURAL
Tasting: A rare and unusual cup. Floral and exotic fruit notes combine with plum and caramel. A real treat.
Sourcing notes : The Red Bourbons of Las Flores are an important contributor to the Bourbon Project. It is difficult to resist this Tabi with its unsual and interesting cup, and Edilberto whose passion is contagious. A rare and unusual cup.