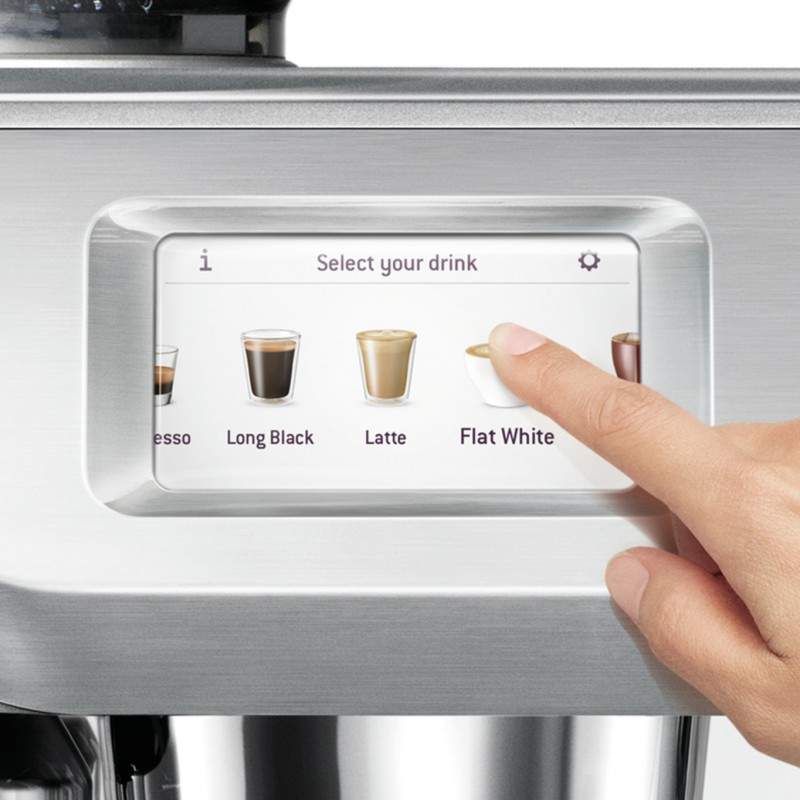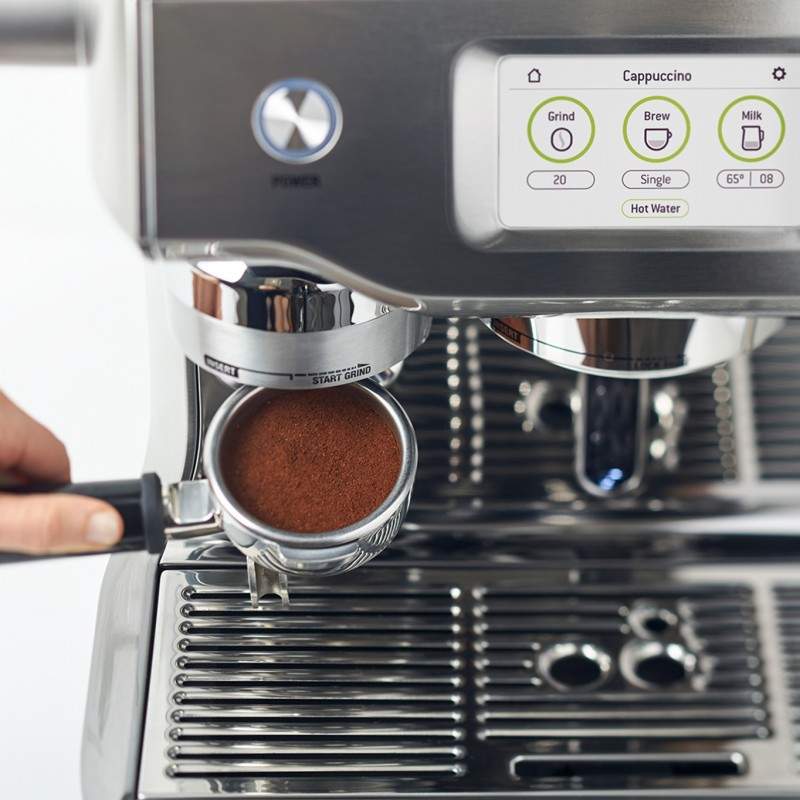 Description
Special Offer for any purchase of a Sage The Barista Touch, The Oracle, The Oracle Touch and The Dual Boiler* machine:
4 coffees offered in 250 g: The Forest, 10 Blend, Ethiopia H3 Organic and Bourbon South Huila beans

- 20% off your next order on all our coffees in beans or ground
The Oracle® Touch is a next generation automatic coffee machine capable of delivering professional quality coffee to your home !
Drag and select from a menu of your 5 favorite coffees. You can also create and customize your own coffee to enjoy authentic, professional quality coffee... and it's fully automated.
The automated touch screen simplifies the process of making your favorite coffee in three easy steps : grinding, brewing and milk. You can easily adjust the strength of your coffee, the texture of the milk or the temperature to suit your taste. Then you can save it under your own name. Create and save up to 8 custom coffees.
No need to turn yourself into a barista, your machine does it for you.
The Oracle™ Touch offers the 4 key elements of professional quality coffee, in a fully automated way.
Dosage :
The built-in conical grinder automatically grinds, doses and packs 22 grams of coffee for a double shot, just like the professional machine in your favorite coffee shop.
Precise water temperature :
The difference between an earthy tasting espresso and a balanced espresso can be due to a temperature change as small as 1 C. The Oracle™ Touch uses digital temperature control (PID) technology, which ensures that the temperature remains optimal. The combination of two stainless steel water heaters and the heating unit provide water at the right temperature.
Optimal water pressure :
The pressure valve (OPV) is a professional feature included in the Oracle® Touch. It limits the maximum pressure during the entire extraction process, thus preventing the coffee from becoming too bitter. It also has a low-pressure pre-brew function, which gradually increases the pressure to gently unfold the grind for an even extraction.
Sufficient steam pressure :
Professional quality coffee is a delicate balance of espresso flavor and rich milk foam thanks to the texture of the microfoam. Powered by a dedicated steam water heater, the steam nozzle automatically creates the milk foam according to your taste, for a silky and professional texture of the microfoam capable of sublimating all the coffee aromas. In addition, it is self-cleaning !
*Offer valid from the 3th until the 5th July 2021 included, on the terresdecafe.com website, subject to availability.
Technical specifications
Main highlights of the catalog :
Easy to use with the touch screen
Drag and drop to select your 5 favorite coffees: espresso, long black, latte, flat white, cappuccino
Automatic grinding, dosing and tamping
Automatic milk temperature and frothing
Digital temperature control +/-1ºC
Other key features :
Touch screen for easy operation
5 customizable coffee settings (espresso, long black, latte, flat white, cappuccino)
Programmable milk temperature and froth
Stainless steel water heater (espresso and steam)
Actively heated heating group
Electronic temperature control PID +/-1 C
Low pressure pre-infusion (4 bars)
Professional 58 mm heating group
Cleaning function for steam nozzle
Integrated demonstration and quick start guide
Lighting of the working area
Removable 2.5 L water tank
Descaling and cleaning alerts
15 bar Italian pump BPA free
Designed and manufactured by Sage Design
Unit weight: 16.9 kg Gross
Product Dimensions (H x W x L): 454 x 373 x 392 mm
Accessories included in The Oracle® Touch :
Mini spent grind container, stainless steel filter holder and 2-cup filter baskets, stainless steel frothing pitcher, cleaning kit , water filter Product Specifications.
---
Sage
Award-winning kitchen appliances designed to inspire our customers to make delicious food and drinks at home with ease. From espresso makers to food processors, the innovation in each appliance delights your senses: the smells, textures and sounds of cooking awaken memories and create new ones. Share them with the people who matter most in your life. That's why we do what we do. To listen. To persevere. Innovate. Test. Perfect. Create.