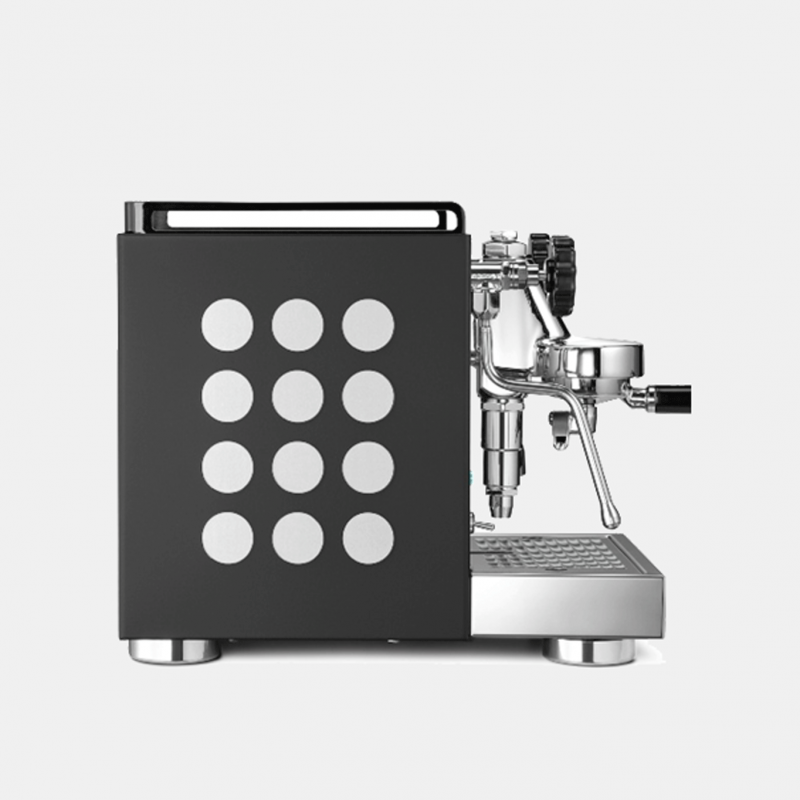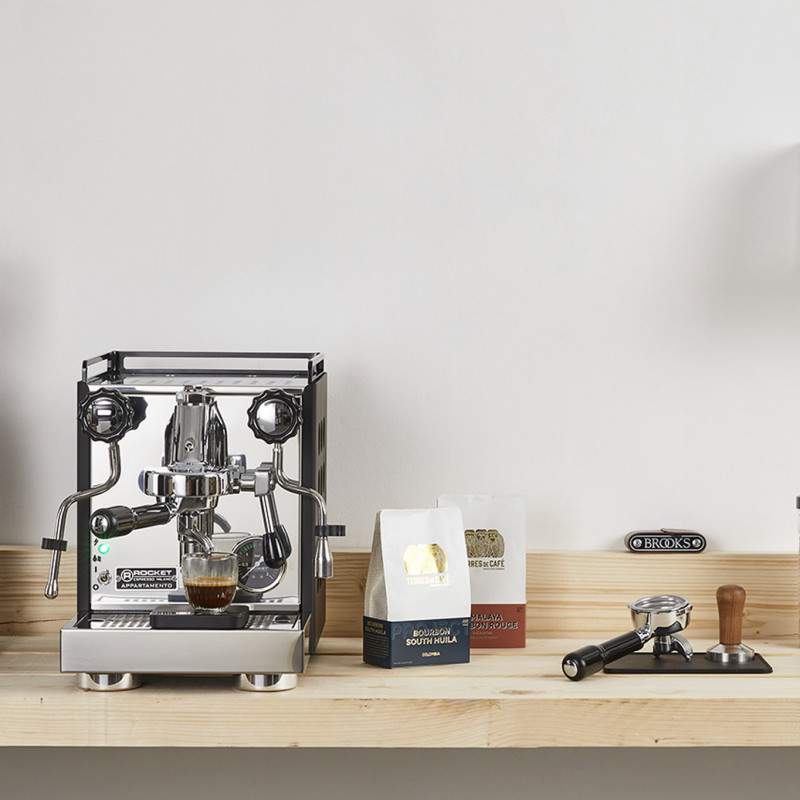 Rocket Appartamento Espresso Machine - Nera
Description
New Rocket Appartemento Nera, in epoxy coated steel, with optimized chassis and components.
The new version of the Appartamento is equipped with a stainless steel cup holder, unlike the original model which is made of plastic.
The best of Rocket in the Compact version, for easy storage in your kitchen. The machine is a semi-pro and is suitable for ground coffee. 
This machine is designed to fit into small worktops. It is compact, elegant and modern with its chrome-plated stainless steel, and keeps all its assets to make beautiful espressos and large cappuccinos.
The advantages of the Rocket Appartamento :
• The steam and hot water valves are the same as those on the R58.
• Trendy stainless steel exterior
• Coffee group E-61: stability and thermal insulation
• 1.8 L boiler: copper boiler connected to brass heat exchangers, which increases heat retention and steam output by about 40% compared to other boiler systems.
• Pressure gauge: temperature and pressure of your boiler.
• Double pre-infusion system for optimal coffee extraction
• Removable drip tray for cleaning in a dishwasher
For any purchase of a Rocket coffee machine, Terres de Café offers you an organic box (coffee beans)and a filter brita. 
We only ship coffee machines in France. For more information on the product, please contact eshop@terresdecafe.com.
DETAILS
Dimensions: W 27.4 x H 36.0 x 42.5 cm
Water tank: 2.5 L
Weight: 20 kg
Voltage: 220-240 Volt 50-60 Hz
Power (Watts): 1200 W, Brass type E61
Hot water tap: yes 
Steam nozzle: yes 
Pump: Vibration pump type
Composition: Stainless steel, Copper
Filter holder supplied: 58 mm, Brass - 2 spouts, Brass - 1 spout
Type Filters supplied: Single filter 1 cup, Blind filter, Single filter 2 cups
Maximum height for cups: 80 mm
Eco-mode: standby after 1.5 hrs
Warranty: 2 years
Maintenance: Clean the machine regularly. After each use, clean the steam nozzle tip with a damp cloth. A backwash of the head of the infusion group is strongly recommended to be done every day. Do not use any descaling agent to clean the machine. The filter holder, the water tank and the drip tray must be cleaned. On the bodywork, the surfaces must be wiped with a soft dry cloth. In order not to damage the machine, do not use any cleaning products for the maintenance of stainless steel. 
---
ROCKET ESPRESSO
Found by New Zealander Andrew Meo and Italian Daniele Berenbruch, Rocket Espresso is specialized in espresso machines. The're made by hand in Milano.