coming soon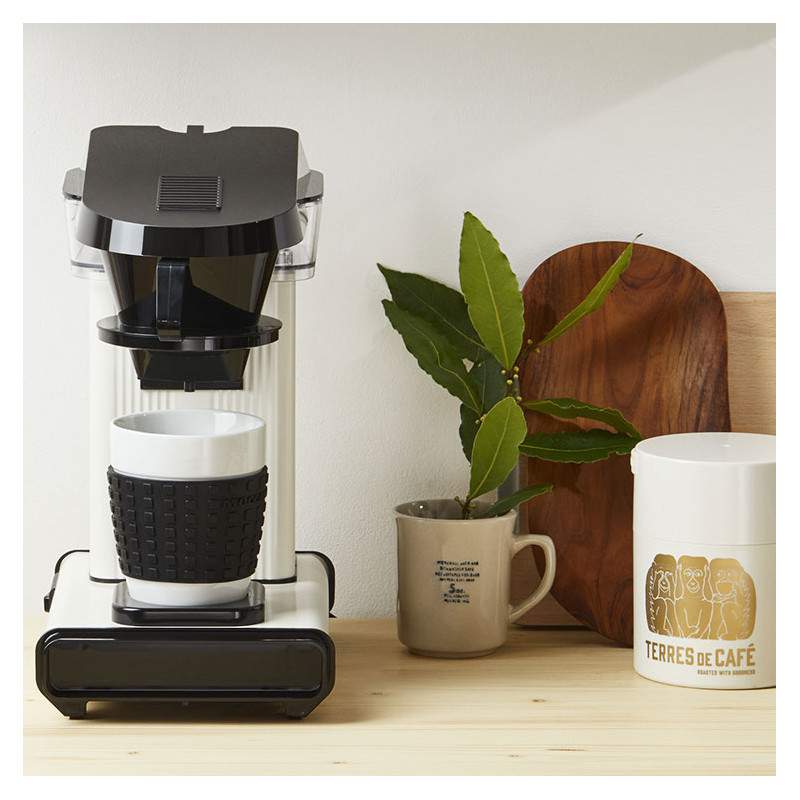 Moccamaster Cup One - Polished Silver
We only ship coffee machines in France. For more information on the product, please contact eshop@terresdecafe.com
Description
*1 free 250g sachet of Nanochala, filter coffee grind, with any purchase of a Moccamaster machine.*
"Conceived by the Dutchman Gerard C. Smit in 1968, the Moccamaster CUP-ONE is an automatic filter coffee maker with a retro design, entirely manufactured and tested by hand. Its precision, reliability and longevity make this coffee maker an exceptional machine. 
It was voted ""the best filter coffee maker in the world"" by Reviewed magazine - November 2016 - USA.
Possibility to prepare a cup of coffee in 4 minutes quickly and quietly.
The Moccamaster Cup One comes with several accessories:
- 1 packet of 250g soft ground coffee
- 1 polished aluminum porcelain cup with silicone strip (to protect from heat and to prevent the cup from slipping)
- 10 disposable cups
- 80 filters
The most :
- The temperature of the water is ideal (between 92° and 96°) for a better extraction of the coffee aromas.
- The contact time between coffee and water (5.5 min) is optimal. Indeed, it takes 4 minutes for all the coffee aromas to be extracted and less than 8 minutes to avoid the coffee becoming bitter.
- The temperature of the hot plate adjusts to the amount of coffee in the pot and prevents the coffee from burning.
- The self-mixing lid allows you to harmonize the concentration of coffee in the pot, to fully enjoy the aromas of your coffee.
- Easy to clean: the parts of the CUP ONE are removable and dishwasher safe.
For every purchase of a Moccamaster coffee machine, Terres de Café offers you a coffee of the moment (filter coffee grinder)".
Details
Dimensions: W 26 cm x D 30 cm x H 16cm
Type of pourer: mug 
Automatic shutdown: yes (the machine switches off after the water is transported)
Weight: 2 kg
Power (in Watts): 1090 W
Filter used: specific filter Moccamaster Cup One
Capacity: 2-3 cups (approx. 0.25 L)
Water tank capacity: 0,25 L
Materials: stainless steel
Maintenance: The coffee maker must be cleaned regularly and carefully. It is advisable to clean it every two weeks in case of daily use. It is important to descale your machine to keep it at its optimum performance. Be careful not to put hot or even warm water in the water tank with a descaling product (the product must be used only once). To clean the machine, turn it off and unplug it, drain the water remaining in the machine.
---
Moccamaster
Created in 1968 by Dutch Gerard C. Smit, Moccamaster brewers are handmade and tested in the heart of the Netherlands. Technivorm makes durable and reliable products that the consumer can fully trust.
It takes care of its environment by using recyclable materials and by making sure the products are energy efficient with a long lifespan.