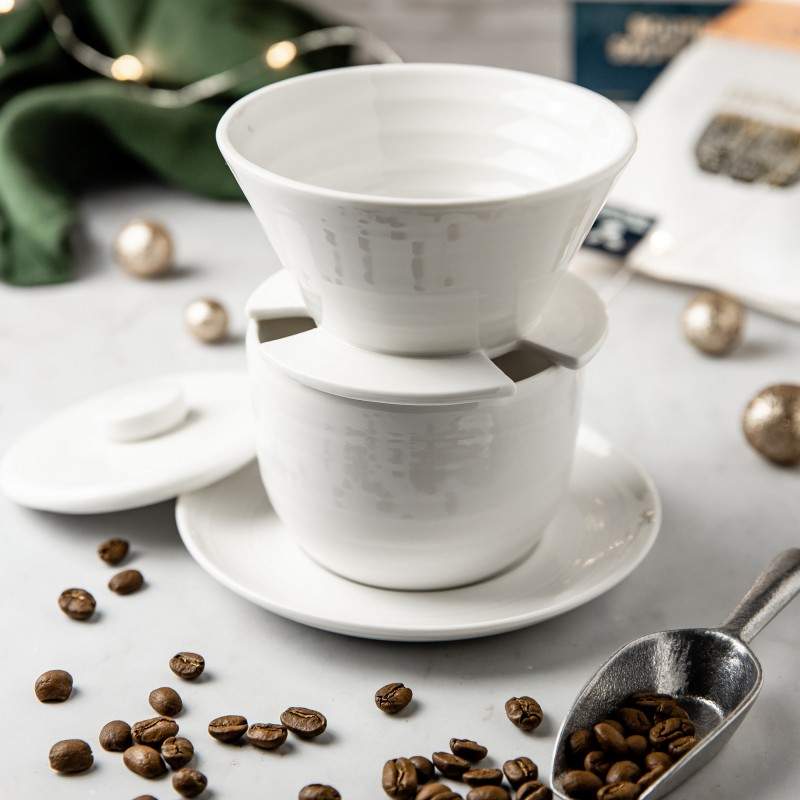 April Pour Over Dripper Set
Description
April Pour Over dripper developed in Copenhagen by PATRIK ROLF and produced by the Belgian design brand SERAX, consisting of a filter holder, a cup and a lid for optimal maintenance of the coffee warm.
For 2 years, PATRIK ROLF, Swedish Brewers Cup champion and specialty coffee enthusiast, developed a unique flat-bottomed dripper prototype that he will use during the World Brewers Cup in 2019, a competition in which he will end up vice-champion.
With the help of the Belgian SERAX publisher, PATRIK ROLF, developed his dripper by optimizing its shape and its materials (a glazed clay ceramic) for a grand cru coffee that is always successful. In a cup, the coffee is pure and balanced.
Technical Characterics :
the bottom of the brewer has a unique cone-shaped feature with three "Filter-Holders" that help to hold your paper filter in place within the brewer. Ensuring that the position of your paper filter remains stable throughout the brew allows for a flow rate that is unrivalled in any other flat-bottom brewer.
Made of a light and thin ceramic clay, finished in white gloss. This form is perfect for coffee brewing as the material is consistently conductive at different brewing temperatures, enabling both flexibility of brew methods and consistency of temperature whilst brewing.
The "Air-Pockets" on the corners of the base assist with the air circulation, making sure that each brew runs consistently, contributing to a cleaner taste experience every time.
The lid creates the optimal aroma experience, encapsulating all of the best fresh aromas extracted when you brew your favourite coffees. This design feature also helps to keep your brewed coffee at a perfect drinking temperature for a longer time.
As the brewer and cup are designed to be used together, you can brew directly into your cup for a cleaner and more streamlined workflow enabling for easy daily use.
Exclusively sold in France by Terres de Café
Characteristics

Dimensions: H 5.5 x ⌀ 6 cm
Composition: Porcelain
Product Care : Dishwasher safe
---
Recipes
For the professional coffee brewers :

Coffee : 12g
Grind size : coarse 30 à 34 clicks on Comandante
Water : 200g
Temperature : 92'/197,6'F
Water ppm : 90-110ppm
Pouring structure :
00:00 : 50g circles for 7 seconds
00:30 : 100g center pour for 10 seconds
01:20 : 50g circles for 7 seconds
Total Brew time : between 2:40-3min
For the coffee enthousiast
Coffee : 2 large tablespoons
Water :  2dl
Water  temperature: Boil up and use1. Let sit until all the water has drained from the coffee bed
2. slowly pour the rest of the water
3. Enjoy